Aulani is a truly unique and magical place. From the Aulani Character Breakfast to the water slides and the lazy river to the Aulani luau ……you have the opportunity to do some really special things at disney's aulani resort. We've visited Aulani twice now……and there are a handful of experiences that I absolutely recommend as must do aulani resort experiences.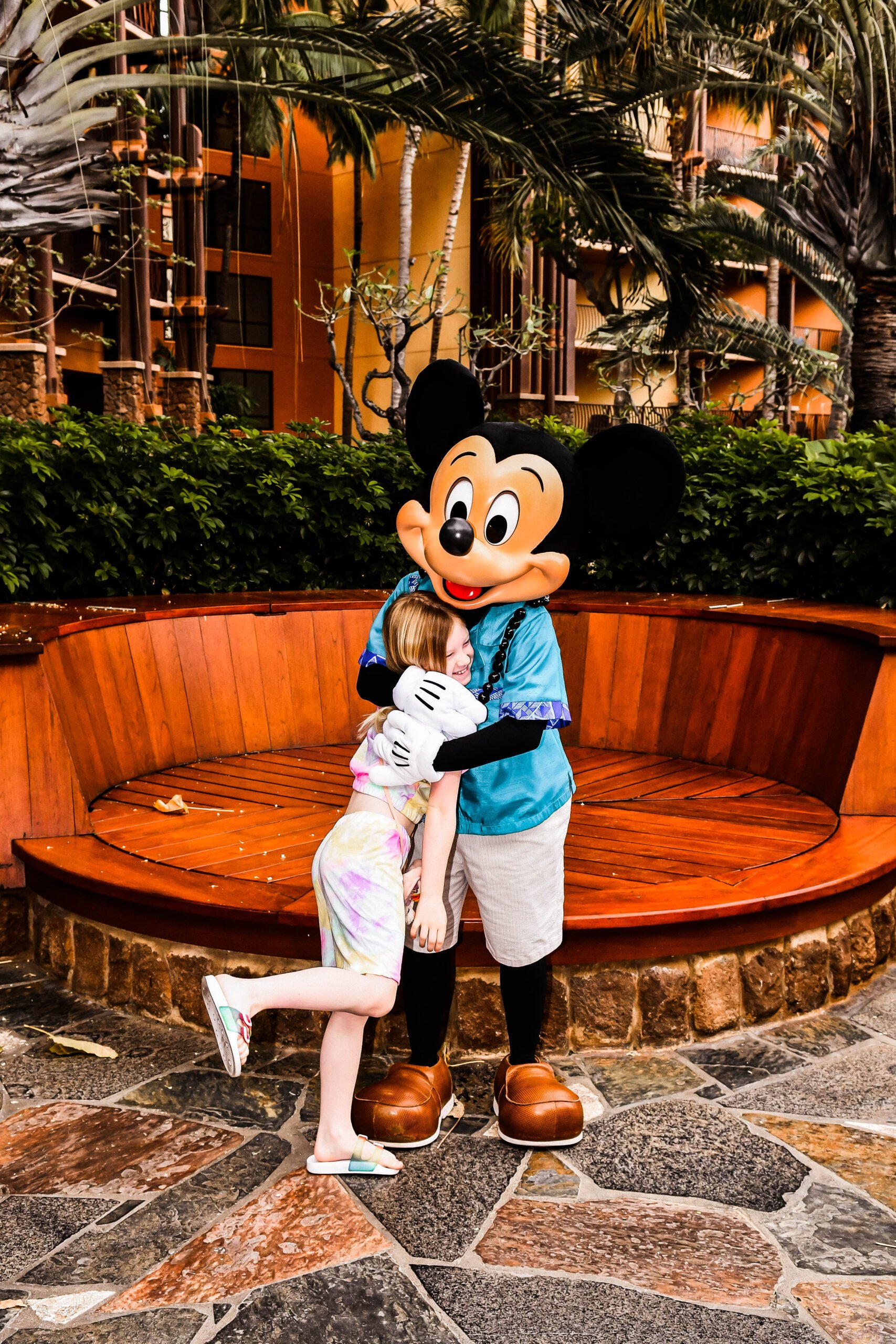 A visit to the disney aulani resort (in Oahu, Hawaii) offers an enchanting experience for families. One of the highlights of any stay is the Aulani Character Breakfast, where guests have the opportunity to have character experiences with some of their favorite Disney characters while enjoying a delicious meal (with some special Hawaiian touches). This disney character breakfast guide will provide you with everything you need to know to make the most of your Aulani Character Breakfast experience.
I'll also be sharing some thoughts about when is best to book this for within your vacation.
Aulani Character Breakfast : Reservations
The Aulani Character Breakfast is a highly popular event, so I would suggest making dining reservations in advance. You can reserve a spot by calling the Aulani dining line or through the resort's website up to 30 days before your dining date. Booking early ensures that you secure your preferred date and time.
The Aulani Character Breakfast is hosted at one location: makahiki restaurant- The Bounty of the Islands It's important to note that this location is a regular table service restaurant for lunch and dinner but it ONLY offers the aulani character breakfast experience in the morning. Pre pandemic, Makahiki provided a buffet-style breakfast with a vibrant Polynesian ambiance. When we visited in March of 2023, the meal was a more traditional sit down dining experience.
Because this takes a bit longer, there are probable less reservations than previously offered so reservations are especially important.
One thing to keep in mind: if you are coming from the mainland….you'll wake up especially early the first few days because of the time different. I'd suggest making an earlier morning breakfast reservation on your first full day. Take advantage of your natural early wake up.
Characters and Interactions at the Aulani Character Breakfast
During the Aulani character dining experience , you can expect to meet a group of Disney characters. We saw popular classics like Mickey Mouse, Minnie Mouse, Donald Duck, and Goofy, as well as Chip and Dale. The characters move from table to table, interacting with guests, posing for photos, and signing autographs. Be sure to bring your camera or phone to capture these magical moments with your favorite characters…..and I'd suggest a notebook or souvenir along with a pen for characters to sign.
The Aulani Character Breakfast provides numerous photo opportunities to capture cherished moments with your favorite Disney characters. Disney PhotoPass photographers are available at the entrance to the disney aulani character breakfast by the koi pond to capture professional-quality photos with your family and Mickey Mouse. I love that this allows you to be fully present and enjoy the experience knowing that you have some nice family pictures. Whether it's a hug from Mickey Mouse, a dance with Minnie, or a high-five with Goofy, the characters are always ready to strike a pose. Take advantage of these photo opportunities to create lasting memories and don't forget to ask the photographers about any special Magic Shots or photo enhancements available during your visit.
Breakfast Menu
The dining experience offers a delightful three-course breakfast to satisfy everyone's taste buds and dining needs (you can see the full menu HERE ) . Makahiki presents a sit down feast featuring fresh island fruits and fresh berries , pastries and mickey waffles , eggs, bacon, sausage, pancakes, made-to-order omelets and hawaiian-style loco moco . Dietary restrictions and allergies can be accommodated with prior notice.
For guests with gluten restrictions or Celiac disease, the Aulani Character Breakfast offers a variety of gluten-free menu items. I personally am gluten free and had PLENTY of options. Makahiki (along with the ulu cafe and the ?lelo room and rest of the Aulani property) are committed to accommodating dietary needs. The chefs are well-versed in preparing gluten-free dishes. You can find gluten-free options such as fresh fruits, omelets made with gluten-free ingredients, bacon, sausage, and specially prepared pastries and bread. When making your reservation, be sure to inform the staff about your dietary requirements so they can assist you in selecting suitable menu items. The resort's dedication to providing inclusive dining options ensures that everyone can enjoy a delicious and worry-free breakfast. I was VERY impressed!
Entertainment and Activities
The Aulani Character Breakfast goes beyond the delicious food and character interactions. Throughout the meal, you can enjoy live entertainment, including hula dancers and musicians, creating a joyful and immersive atmosphere. Additionally, children can participate in arts and crafts activities, storytelling sessions, and interactive games, adding an extra touch of Disney magic to the experience.
Tips for the Best Experience at the Aulani Character Breakfast
Arrive early: Aim to arrive at least 15 minutes before your reservation to ensure a smooth start to your breakfast experience.
Be camera-ready: Bring your camera or phone fully charged and ready to capture the memorable character interactions.
Plan for autographs: If you or your child collects character autographs, bring a notebook or autograph book and a pen with a medium tip.
Communicate dietary restrictions: Notify the resort in advance of any dietary restrictions or allergies to ensure suitable meal options are available.
Enjoy the moment: Take your time to savor the delicious food, engage with the characters, and immerse yourself in the magical atmosphere.
The Aulani Character Breakfast is an experience that combines amazing food, our fav disney friends , and Hawaiian charm. By making reservations, interacting with the characters, savoring the breakfast menu, enjoying the entertainment (especially the ukulele performance ), and following my tips, you'll create lasting memories for your entire family.
Don't miss the chance to start your day in paradise with this unforgettable Disney experience at Aulani, where the beauty of hawaii and Disney come together in perfect harmony. It's an absolute Aulani must do!