We just returned from a trip to Universal Studios. We upgraded our regular universal studios hollywood tickets to add on universal express passes. So this? The ultimate guide to the universal studios hollywood express pass and if it's worth the money.
From Grinchmas over the holidays to the wizarding world of harry potter and the newest super nintendo world …… universal studios hollywood is one of our favorite southern california amusement park options.
Universal Studios Hollywood is renowned for its thrilling rides, captivating shows, and immersive attractions that bring your favorite movies and fandoms to life. However, with its popularity, during certain times of year ( peak season usually coordinates with school breaks) …..the park can often get crowded, leading to longer lines and long wait times.
Universal Studios Hollywood offers the Express Pass as an option for an upgraded experiences beyond your general admission ticket options. This pass is a time-saving option that allows guests to skip the regular queues and enjoy more of the park's offerings.
In this article, I wanted to dive into the details of the Universal Studios Hollywood Express Pass. I'll be exploring its benefits, types, and tips to help you make the most of this upgraded option for visiting Universal Studios.
universal studios hollywood express pass : is it worth the money?
We've used a universal express ticket a number of times during our visits to the park over the years……and I can absolutely tell you that it completely changes your experience.
What is the Universal Studios Hollywood Express Pass?
The Universal Studios Hollywood Express Pass is a premium service and a vip experience that grants visitors priority access (usually through a separate line ) to select attractions, shows, and rides. With this pass, guests can bypass the regular lines and enjoy significantly shorter wait times. This maximizes your time in the park. I love that it offers a great way to make the most of busy days and times of year.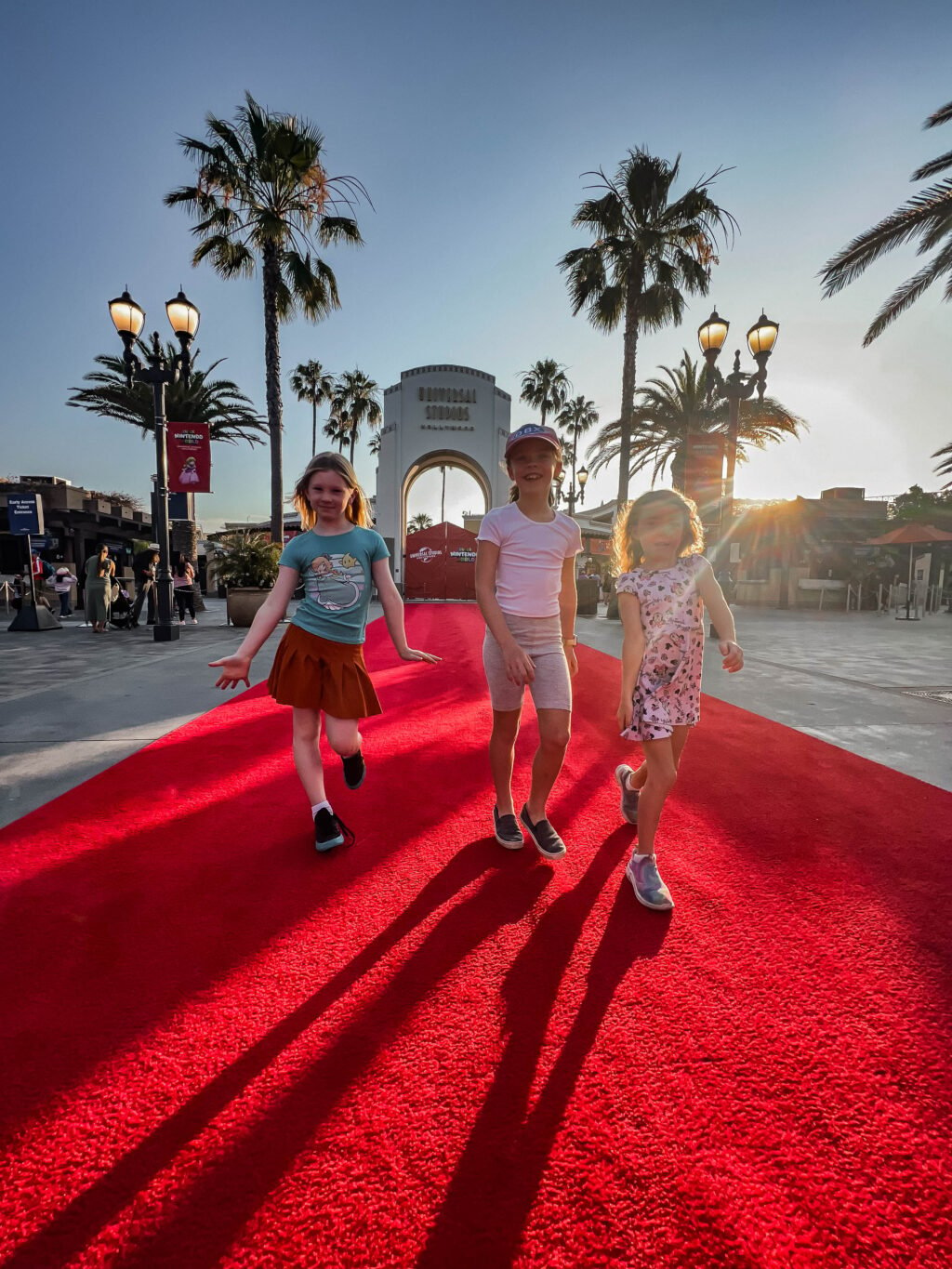 Types of Universal Studios Hollywood Express Pass
Universal Studios Hollywood offers different types of Express Passes to cater to your preferences and your budget:
a. Universal Express Pass: This is the standard Express Pass that provides one-time express access to each participating attraction, show, and ride.
b. Universal Express Unlimited Pass / VIP Experience: This option offers unlimited express access to participating attractions, shows, and rides throughout the day, plus a VIP Tour Guide and a meal.
Benefits of the Universal Studios Hollywood Express Pass
The Express Pass offers numerous benefits that enhance your Universal Studios Hollywood experience:
Reduced Wait Times: The biggest advantage of the Express Pass is that it significantly reduces your wait times, allowing you to experience more attractions and shows during your visit. During our visit over the summer, on a pretty busy day….we were able to do EVERY ride by 3 pm. Pretty impressive!
Priority Access: Express Pass holders enjoy priority boarding at participating attractions, shows, and rides. This means that you spend less time standing in queues and more time enjoying the park's other offerings.
c. Flexibility and Convenience: With the Express Pass, you can create a personalized itinerary, choosing the attractions you wish to experience without worrying about long lines. It provides the flexibility to explore the park at your own pace. I spent less time worrying about what to do first, since it didn't make a difference in terms of wait times!
d. Overall Experience: By avoiding long queues, you can spend more time immersing yourself in the park's themed environments, interacting with characters, and enjoying the various entertainment options. We spent longer at lunch, felt like we could stop and visit characters and not rush….it was lovely to know there wouldn't be long lines at any attraction either way.
How to Purchase and Use the Universal Studios Hollywood Express Pass
Purchasing the Express Pass: The Express Pass can be purchased separately from your park admission ticket or bundled. It is available online, at the ticket booths or through Undercover Tourist. I would recommend to purchasing in advance, especially during peak seasons. Availability may be limited.
Using the Express Pass: Once you purchase the Express Pass, it will be associated with your park admission ticket or a separate Express Pass card. Simply present the pass at the designated express entrance of participating attractions, shows, or rides. The attendant will scan the pass, granting you priority access.
Restrictions and Limitations: While the Express Pass provides significant benefits, there are a few important considerations:
Some attractions may have height or other restrictions, and the Express Pass does not override these limitations.
The Express Pass does not guarantee immediate access to attractions during peak periods or when attractions are temporarily closed for maintenance or unforeseen circumstances.
Tips for Maximizing Your Universal Studios Hollywood Express Pass Experience
a. Plan Ahead: Before your visit, research the park's attractions, shows, and rides to determine your priorities. Make a rough itinerary, keeping in mind the Express Pass will enable you to experience more in a shorter time frame.
b. Arrive Early: Although the Express Pass reduces wait times, it is still beneficial to arrive early at the park to maximize your overall experience. Arriving early allows you to access popular attractions with minimal wait times before the park gets busier.
c. Utilize Off-Peak Times: If possible, visit Universal Studios Hollywood on weekdays or during non-holiday periods to avoid peak crowds. This will enhance the effectiveness of your Express Pass, as wait times tend to be shorter during quieter times.
d. Strategize Your Visits: Prioritize the most popular attractions during peak hours when lines are typically longer. Use your Express Pass to skip these lines, ensuring you experience the most sought-after rides and shows with minimal waiting.
e. Stay Hydrated and Energized: Exploring a theme park can be physically demanding. Remember to stay hydrated, take breaks, and refuel with snacks or meals to maintain energy levels throughout the day.
Universal Studios Hollywood Express Pass Details and Inclusions:
The Universal Studios Hollywood Express Pass provides priority access to a variety of attractions, shows, and rides throughout the park.
While the specific lineup of included attractions may vary, here is a sample list of popular experiences often covered by the Express Pass:
Harry Potter and the Forbidden Journey: Embark on a magical journey through Hogwarts Castle in this immersive 3D motion-based dark ride. Not to play favorites but, the forbidden journey ride is one of my favs!
Flight of the Hippogriff : The flight of the hippogriff is a roller coaster (a smaller one) that takes you on a journey in and around Hagrid's hut.
Jurassic World—The Ride: Encounter awe-inspiring dinosaurs and experience a thrilling water-based adventure inspired by the iconic jurassic park film franchise.
Transformers: The Ride 3D: Join Optimus Prime and the Autobots in an epic battle against the Decepticons on this exhilarating 3D dark ride.
The Simpsons Ride: Step into the world of The Simpsons and join Homer, Marge, and the rest of the family on a wild and hilarious simulator ride.
Despicable Me Minion Mayhem: Enter Gru's laboratory and become a Minion in this fun 3D motion simulator attraction featuring the beloved characters from the Despicable Me franchise.
Revenge of the Mummy: Plunge into the darkness and face ancient curses on this high-speed indoor roller coaster inspired by The Mummy film series.
The Walking Dead Attraction: Immerse yourself in the post-apocalyptic world of The Walking Dead as you navigate through a terrifying walkthrough experience.
Tours and Shows:
Studio Tour: Take a behind-the-scenes tram tour and explore. You'll see the iconic sets, soundstages, and backlot locations used in various film and television productions.
WaterWorld: Witness an action-packed live show filled with stunts, explosions, and thrilling water-based performances based on the popular film WaterWorld.
Special Reserved Seating for Shows: Enjoy priority access and reserved seating for select live shows and entertainment offerings. The express pass ensures that you get the best views and experiences.
It's important to note that the lineup of attractions covered by the Express Pass is subject to change. Some attractions may have additional restrictions or requirements. I would suggest that you check the Universal Studios Hollywood website to get the most up-to-date information on the included attractions.
So in my opinion…..is it worth the money? ABSOLUTELY.
The Universal Studios Hollywood Express Pass is an invaluable tool for those seeking to make the most of their visit. It provides priority access and significantly reduces wait times. tI think that the Express Pass enhances your overall experience. It allows you to enjoy more attractions, shows, and rides.
With careful planning and these helpful tips, you can ensure a memorable and thrilling adventure at Universal Studios Hollywood.
So, grab your Express Pass and get ready for a day filled with excitement, magic, and unforgettable moments.