Gearing up for warm weather? I'm sharing the best shorts for a Pear Shaped Body!
You asked, and I investigated.  Let's be honest…….finding shorts that fit us ladies with a pear shaped body? Can be a bit of a challenge.  Fitted shorts tend to draw attention to wider thighs and be not very flattering.  Bermuda shorts look terrible.  And most short that fit in the hips are HUGE in the waist.  I've written a similar blog post about my favorite shorts for a pear shaped body for the last few years……and wanted to be sure to update you guys with my favorites for 2021!
I really focused on finding a variety of options from solid colors to prints to bike shorts and even short overalls.  That way we can all pick what we love the most when it comes to shorts for a pear shape!
The Best Shorts for a Pear Shaped Body
After trying and testing an embarrassing amount of shorts……these are my absolute favorites.  It's interesting how certain brands tend to be my favorite for shorts year after year (and they tend to be the SAME brands that I love for jeans during cooler months).  Current favorites? Target , Aerie , Athleta, and Universal Standard. If you're a pear shaped lady, those brands tend to be super flattering on our body type!
Riviera Shorts (size 12): These shorts were my pick of the summer LAST year, and they're back in a million new prints this year.  I own a striped pair, sailor buttoned ones, and a bunch of cute florals.  Trust me, they're a MUST own.  They'll last for years and you'll be happy you have them!
Shop All Riviera Shorts:

Black Shorts (size 12): Black shorts are a great staple, and a total worthwhile investment.  I've owned this pair for years, and they're good as new.  They're perfect for vacations, or time at home.
Shop All Black Shorts:

Bike Shorts: I know, I can't believe I'm saying this….but bike shorts are some of my favorite comfortable shorts options.  From these pictured (they're from Aerie and a total bargain) to the Spanx Bike Shorts that are 100% worth the hype (great for a slightly dressier vibe) to the newest pair I got from Universal Standard (a killer size range), they great for comfortable and casual summer outfits.
Shop All Bike Shorts: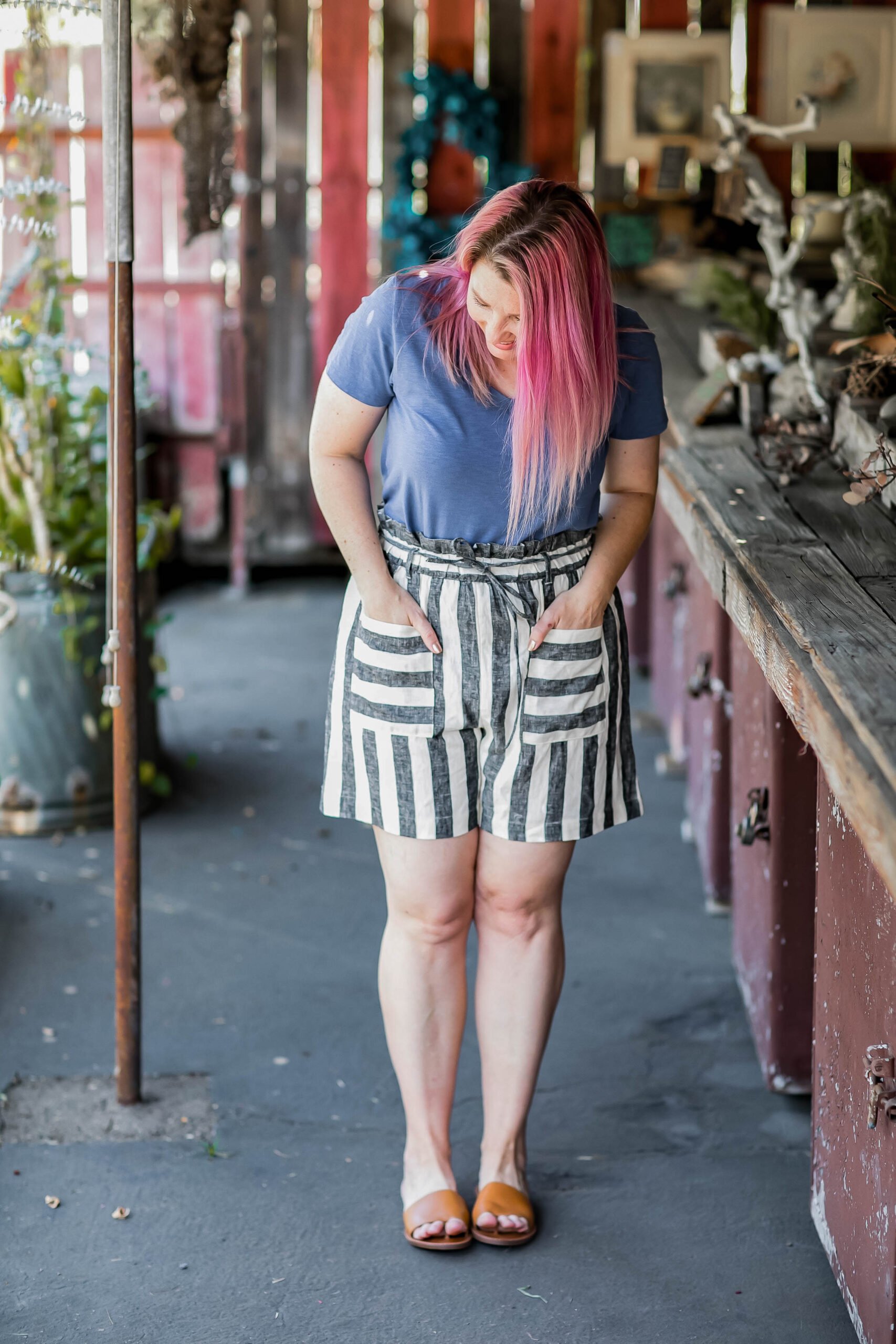 Paper Bag Shorts: Aren't these great? I've been on the hunt for a simple pair of striped shorts for a while and these are keepers for me.  They're soft linen, machine washable and the perfect neutral color combo. Paper bag shorts are comfy, and super flattering…..plus easy to dress up or down!
Shop Paper Bag Shorts:

Sweat Shorts (size large): My only regret? Not buying the matching top for these shorts.  They're so comfy.  They'd be perfect lounging at home or taking a road trip.
Shop Sweat Shorts:

Want more of my favorites for a pear shaped body? Check out:
The Best Black Bathing Suits for a Pear Shaped Body
The Best Bathing Suits for a Pear Shaped Body Under $50
The Best T Shirt Dress for a Pear Shaped Body
So what do you think? What are YOUR favorite shorts for a pear shaped body? If you have a pair you love…..leave info about them in the comments!