Looking for recommendations for some great graphic novels for tweens? This list is perfect!
Lately, Lydia has been VERY into graphic novels.  Now, y'all know that my philosophy in terms of fostering independent reading is pretty simple…….pick high interest books that your reluctant readers will love.  Let your children select pieces of literature that interest them (they can even ask their best friends for recommendations)…from princess books to chapter books   to comic books.  And lately? Graphic novels have been her thing.  So, I started to do some research and so did she.  We actually found a TON of graphic novels for tweens, books that are perfectly crafted for ages 8 to 13…….and she's had a blast checking them out.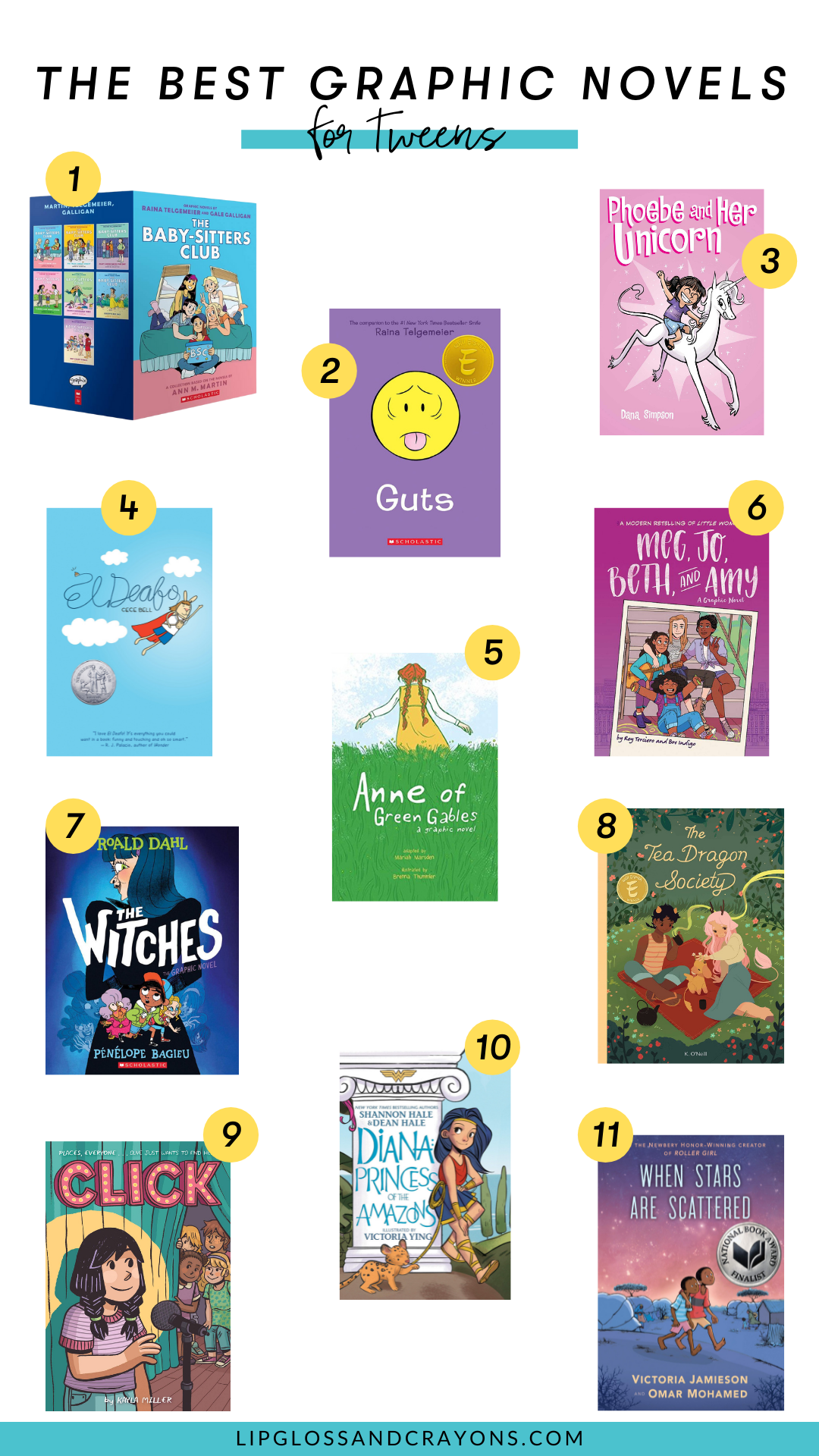 Graphic Novels for Tweens
These are our top 11 choices in terms of graphic novels that are age appropriate and a great read.  They've got great variety, and most are part of collections….so you can read more of any that love!
Babysitters Club Graphic Novels: These new versions of the classic Babysitter's Club books are what first introduced graphic novels to Lydia and she loves them.  There are versions of the original classics with a few new friends added, but also additional books based on the stories of Karen (the Babysitters Club Little Sister books).  They're a ton of fun, and totally tween appropriate….highly recommend as a first graphic novel option.
Guts: Funny story about this specific graphic novel memoir (and the others by it's author Raina Telgemeier)…..Lydia learned about these before I did.  On a recent trip to the library, she marched right up to the desk and asked for Guts.  When I asked her where she learned about it….she informed me that the author was the same person who created the Babysitter's Club graphic novels.  So, looking for more graphic novels for tweens? Guts (this first book and Raina's other books) are great tween stories about coming of age issues…..perfect for  8-11 year olds asking a lot about what life is like as a middle schooler.
Phoebe and Her Unicorn:  This book is every nine year old's dream come true…..the story of how Phoebe accidentally discovers and befriends…..a unicorn (named Marigold Heavenly Nostrils).  The entire series is cheeky and fun, and perfect for fantasy loving young readers.
El Deafo: This unique book is a MUST READ and I love that it will help our kids gain a unique perspective into what life is like for children with hearing loss.  It tells the story of Cece, who starts at a new school.  Cece wears a hearing aid, and discovers that it allows her to hear her teacher ANYWHERE.  Let the adventures begin!
Anne of Green Gables: A Graphic Novel : I love love love this book, and it's one of the first graphic novels I ordered for Lydia.  This fun graphic novel version of the classic novel is a ton of fun to read (we watched the classic movie after to compare).  Fun bonus? Read this graphic novel adaption and then check out the TV series!
Meg, Jo, Beth, and Amy: A Modern Graphic Retelling of Little Women (Classic Graphic Remix, 1):  To follow up with another graphic novel version of a classic, this updated version of Little Women is AMAZING and a total girl power read.  I love that from the oldest daughter to the youngest daughter from the real novels….each character is updated and modernized in the best ways.  This graphic novel addresses some very important life issues in a totally tween appropriate way (highly suggest for ages 8 to 11).
The Witches: The Graphic Novel: When the new Witches movie released, we ordered a copy of this graphic novel and Lydia has read it OVER and over again since it arrived.  The illustrations are quirky and fun, and this is a great introduction to Roald Dahl's classic story and a great way to introduce a classic author!
The Tea Dragon Society: The Tea Dragon Society is a totally different type of graphic novel, and one that we've JUST gotten into.  This sweet fantasy series is a two-time Eisner Award winner and tells  the story of a blacksmith apprentice, and the fascinating characters she meets as she becomes enters the magical world of tea dragons.  These special books make wonderful gifts and are serious works of art, the illustrations are amazing….they have a fairy tale feel with a great story arc and plot!
Click: Remember that point in upper elementary and middle school when you had trouble finding where you fit in? Finding the people you clicked with? That's what this graphic novel is all about.  It's funny and sensitive and true to life and totally relatable for tweens going through life changes and wondering about middle and high school from the first to the last page….it's a gem.
Diana: Princess of the Amazons: If you've got a mythology loving kiddo, then this is the PERFECT graphic novel for them.  This story of Diana shares her adventures as she looks for friends (being the only kid in town isn't exactly fun for her)!
Where Stars are Scattered: This is a VERY different type of book to recommend on our list of graphic novels for tweens, but one that is a must read.  Where the Stars are Scattered tells the story of Omar and his brother, Hassan, living in a refugee camp in Kenya. Omar is given the opportunity to go to school, knowing that it might change their futures……but the decision? Is not so easy.  This is based on a true story, and a perfect book to read together as a family.
What are YOUR favorite recommendations for graphic novels for tweens?  Have you ready any of the books from this list of the best graphic novels we've consumed?