Looking for the perfect Disneyland outfits to wear for Disneyland Holidays? I'm breaking down what to wear to Disneyland Christmas by park, and sharing my must haves for fun days at this year's celebration!
It's the most wonderful time of the year (is that stuck in your head now?)……and it's especially magical at the happiest place on earth.  From now until January 8th, Disneyland is filled with festive decor and some of the best food you'll have all year.  If you'll be visiting the parks for the holidays, be sure to check out my Disneyland Christmas ultimate guide, it's filled with tips for food and parades!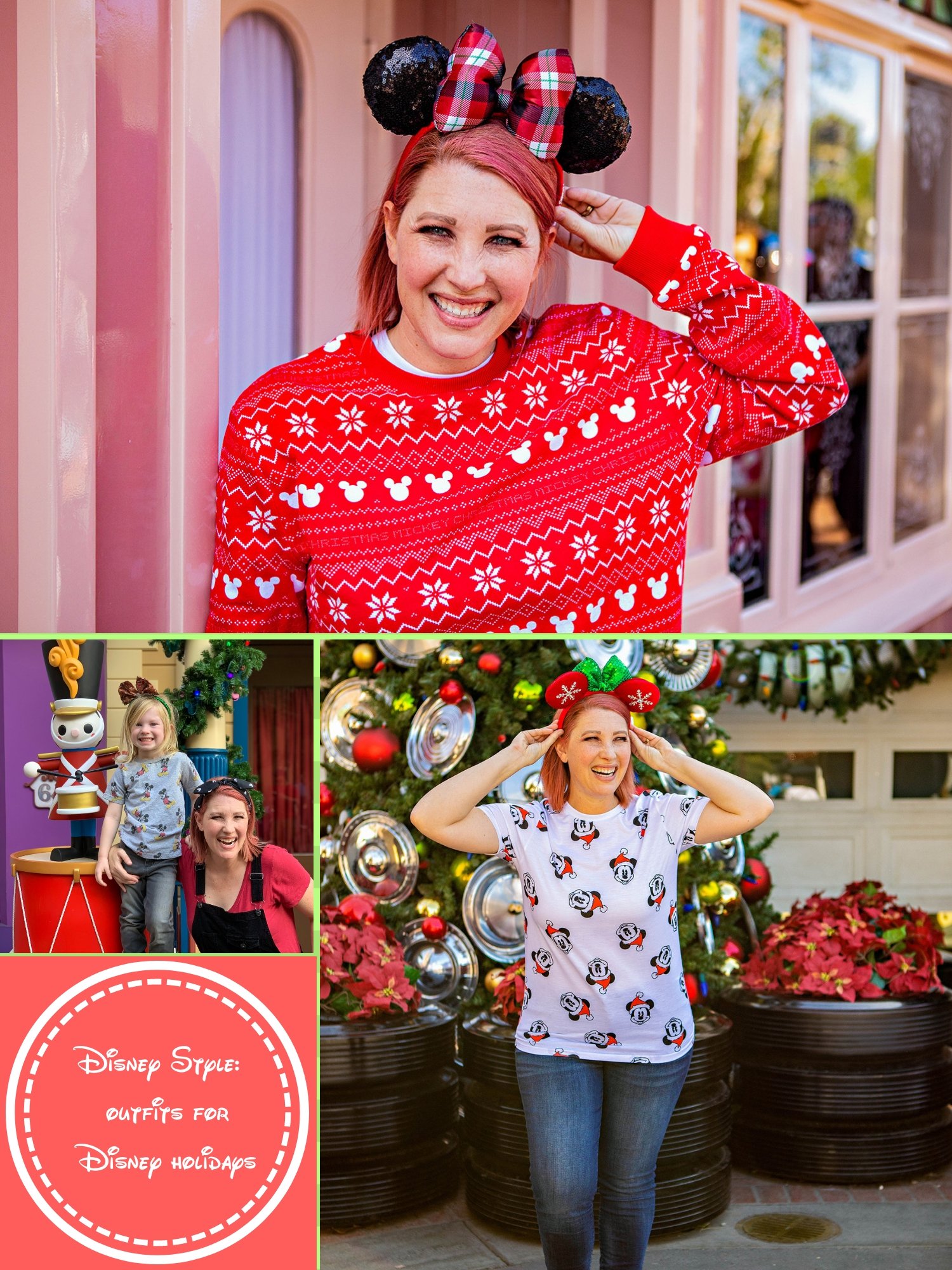 Disneyland Outfits: What to Wear to Disneyland Christmas
Weather at the parks in November and December can vary GREATLY.  It can be warm during the days and surprisingly cool as soon as the sun goes down.  My biggest suggestion? Bring layers.  Your safest bet is to wear jeans or comfortable pants, and a short sleeved tee but to bring a sweatshirt or sweater for layering.  If we're planning to stay from rope drop to closing…..I also bring gloves and a hat plus a jacket.  There are December days when I've worn a tee shirt at 2 pm and needed a sweatshirt and jacket by 9 pm.
If you're looking for more info on what type of Disneyland Outfits to wear by season……check out my DISNEYLAND OUTFITS FOR EACH SEASON blog post, it will help you decide what to pack if you're coming from out of town!
Disneyland and Main Street:
From the 60 foot Christmas tree to the adorable bows and garlands decking every store front…….Main Street in Disneyland screams traditional holiday cheer.  You'll see vintage style ornaments, wreaths galore, and about a billion Christmas Lights (and the castle covered in snow at the end of Main Street).  To me, nothing is as traditional Christmas as a holiday sweater.  This fun red holiday sweatshirt looks like one, but is comfy and PERFECT for layering.  I got a ton of compliments on it in the park, and you'll definitely be seeing it a lot more before January hits!
Shop Disney Christmas Sweatershirts and Sweaters

California Adventure:
Carsland in California Adventure is my favorite place year round…..and over the holidays? It's NEXT LEVEL.  The Cozy Cone is decked out in orange garlands and there is even an orange Christmas Tree.  It's whimsical, colorful and so much fun! I figured nothing would be as fun as Santa Mickey, and this adorable animated tee.  For evening? I layered it with a plaid cardigan  plus some of Shop Disney's adorable holiday ears.
Shop my Christmas Mickey Tees:

My other favorite area for holiday fun? The adorable houses across from The Little Mermaid ride.  The doorsteps are decorated with tinsel and I love the Nutcrackers.  This is a must stop photo spot for us on the way to The Little Mermaid and Jumpin Jellyfish.  And was the perfect spot to grab a photo of Lydia's and my holiday outfits during a trip to the park last weekend.  We kept these ones simple with pops of red and black and holiday accents!  If you're in this part of the park…..don't forget to stop by the Redwood Creek Challenge Trail for all of the holiday fun!
Shop Our Red Holiday Outfits:

I know, I know.  I mention a Nap Dress as the perfect outfit for every single holiday.  But this? Throw on a plaid dress and sneakers and you're good to go on a warmer Disneyland day!
Shop the Nap Dress:

Will you be heading to Disneyland for Christmas? What are your must wear Disneyland Outfits items?