Marshmallow & Caramel Sweet Potato Casserole is a must make fall side dish perfect for the holidays!
Let's check our lists.  Got your Thanksgiving outfits ready?  Travel plans set? Now, what about your Thanksgiving dinner menu? Hit the brakes….cause this is the perfect addition to your meal!
I'm SUPER excited to announce…..a dear friend of mine will be popping over here time and again to share some of her amazing recipes….and this Thanksgiving Sweet Potato Casserole recipe is the perfect intro! Meet Julie…….
I have the biggest crush on sweet potatoes. They're my favorite! Given the choice between sweet potato pie and pumpkin pie, I choose sweet potato 9 times out of 10. There's nothing I love more than tasty sweet potato recipes and this sweet potato casserole definitely fits that description.
Many years ago I worked at Texas Roadhouse. In fact, that's where I met my husband. If you've ever been and ordered a baked sweet potato there it generally comes one of two ways – honey cinnamon butter & brown sugar or caramel sauce and marshmallows. This sweet potato casserole is an homage to the loaded sweet potatoes from my 20's. I served more of them than I can count and everyone loves the sweet combination.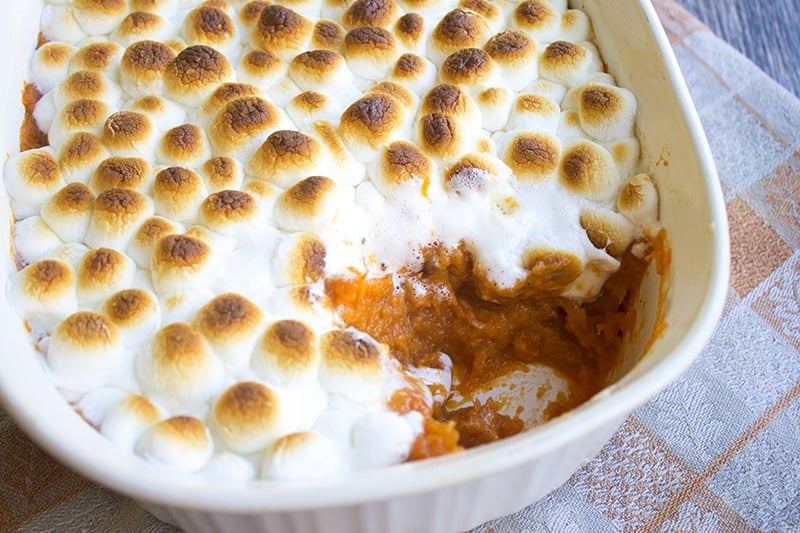 This sweet potato casserole is a Thanksgiving classic. With its layer of caramel sauce, it'll take your dinner to a whole new level! And if you're feeling adventurous, you can sneak a little bourbon or honey flavored whiskey in the sweet potatoes for a kick! Adults only though.
Marshmallow & Caramel Sweet Potato Casserole
Yum

Prep Time: 10 mins     Cook Time: 30 mins     Makes: 8 to 12 servings
Ingredients
3 large or 4 medium-sized orange flesh sweet potatoes, peeled and cut into 1/2-inch pieces
3 tablespoons unsalted butter
1/2 cup brown sugar, lightly packed
1/4 cup half-and-half or whole milk
1 teaspoon salt
1/2 teaspoon ground cinnamon
1/4 teaspoon nutmeg
1/4 to 1/2 cup caramel sauce (store-bought or homemade)
One 10-ounce bag mini marshmallows
Directions
Bring a large pot of water to a boil while you prep the sweet potatoes. Add the potatoes to the pot and cook until fork tender, about 20 minutes. Drain the potatoes and transfer to a large mixing bowl.
Use a potato masher to smooth out the potatoes a bit.
Add the butter, brown sugar, and half-and-half to the potatoes. Mash to combine and smooth out the potatoes even more.
Using a wooden spoon, stir in the salt, cinnamon, and nutmeg until well combined.
Transfer the potatoes to a 2.5-quart casserole dish and smooth into an even layer.
Pour caramel sauce all over the top of the sweet potatoes. Use a rubber spatula to spread the caramel to the edges, if needed.
Cover the top of the sweet potatoes with mini marshmallows. I didn't use the entire bag of marshmallows, but you totally can if you want to.
Turn your oven's broiler to high and place the casserole dish on a rack situated in the middle of your oven. Broil the marshmallows for 1-2 minutes or until they are golden. Remove from the oven and serve immediately.
Notes
If you have an all adult guest list for dinner, you can add 1-2 tablespoon of bourbon or honey flavored whiskey to the sweet potatoes before they go into the casserole dish.
Be sure to check out our other easy family meals before you go!