Heading to the Happiest Place on Earth? Check out the Ultimate Guide to Disneyland Christmas 2018 for must sees and must eats!
Thank you to Disneyland for hosting our visit.
Can you believe it's almost Christmas? The holidays are my FAVORITE time of year at Disneyland and California Adventure……and I got to spend time checking out all things Disneyland Christmas 2018.  From the food (I tried a LOT) to the entertainment (so many special things to see) to the festive decor…..Disneyland does the holidays in the most amazing way.  The magic around every corner is sure to bring out the child in all of us, to spread a little cheer, and to have you wanting to spend a few MORE days immersed in the holiday magic that only Disney can create.
Disneyland Christmas (and the Festival of Holidays at California Adventure) are happening NOW until January 8th.  
Disneyland Christmas 2018: The Ultimate Guide
Entertainment and Activities:
Disneyland:
"A Christmas Fantasy" Parade: The Disneyland Christmas parade (aka A Christmas Fantasy parade) is one of my FAVORITE holiday traditions.  It's filled with our favorite characters celebrating the holidays (keep your eyes peeled for Goofy making gingerbread cookies), special winter performers (the ice skaters are AMAZING), a dazzling Christmas party with all the princesses (and even Cinderella's evil stepsisters), plus an appearance by Santa himself (this year's Santa even wishes the crowd Merry Christmas in sign language)!  Be sure to snag a seat early for prime viewing, my favorite spot to sit is in front of the fire station on Main Street.
Wintertime Enchantment at Sleeping Beauty's Castle: Looking for epic Christmas magic? Don't miss the lighting of Sleeping Beauty's Castle.  It's dripping in lights, covered in snow and that moment when it lights up? Is absolutely amazing (check the Disneyland app for daily times or read all about it on Disneyland's site.)
It's a Small World Projections: Nothing screams Disneyland Christmas like It's a Small World.  Every 30 minutes during the holidays, holiday tunes play and the characters appear.  The most magical part? The ENTIRE facade is light with christmas lights and amazing projections! Trust, this is a DON'T MISS holiday activity!
Fireworks and Snow: Want to see it snow in Los Angeles? Something about snow falling on Main Street makes me feel like Christmastime is TRULY here.  The Believe in Holiday Magic Fireworks show is STUNNING and a ton of fun to watch…..then at the end? Snow falls on Main Street, at It's a Small World and by the Rivers of America.
California Adventure: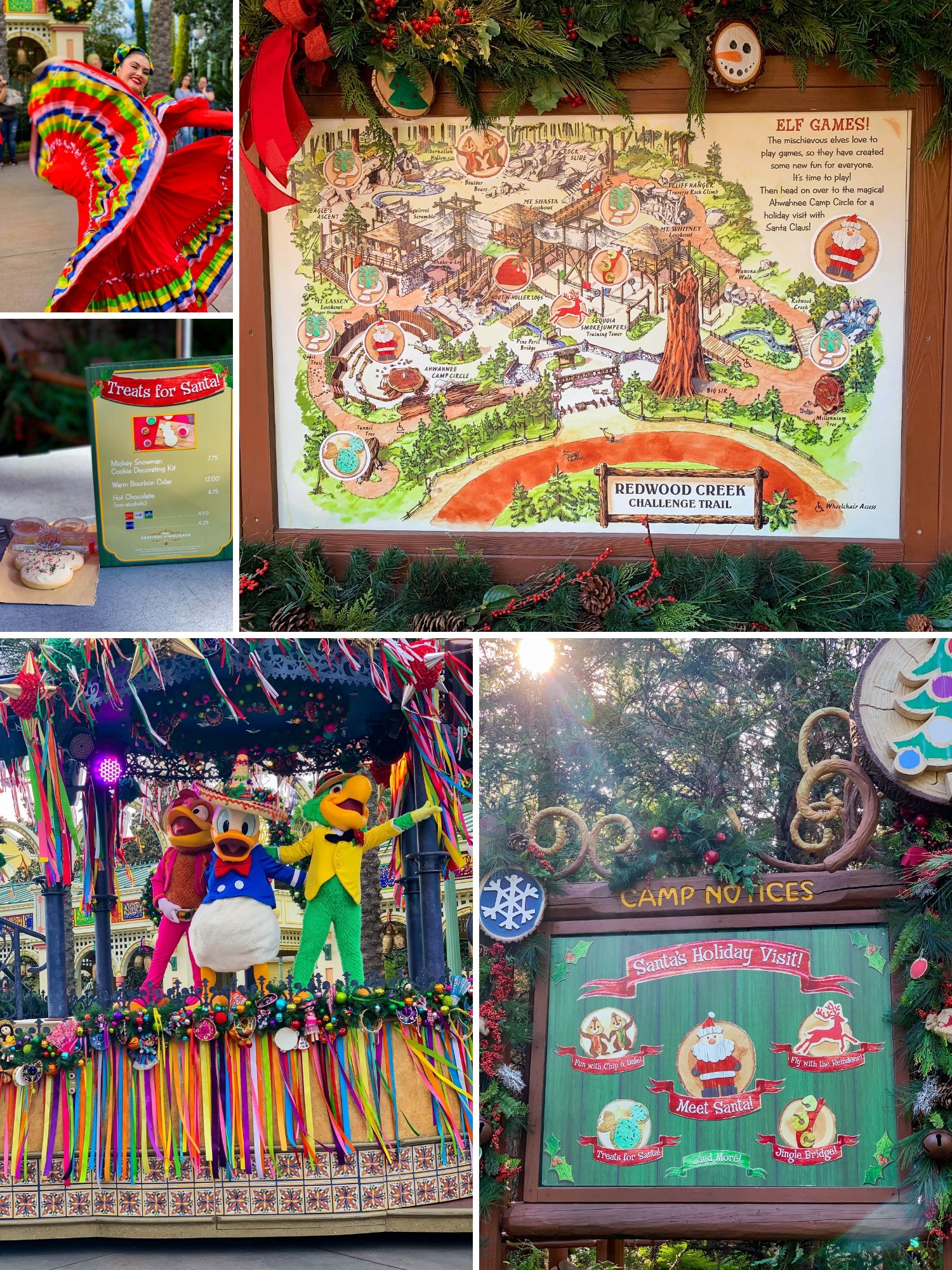 The Festival of Holidays at California Adventure is a magic filled way to celebrate (and trust me when I say it's a don't miss).  This celebration of diversity showcases cultural traditions from around the world and has some of the BEST food I've ever had at Disneyland.  The entertainment line up is top notch, and perfect for both kids and adults.
Viva Navidad: Random fact: the Three Caballeros is literally my favorite Disney movie of all time.  These adorable characters host the amazing Viva Navidad street party which includes dancers, live musicians and characters dressed in their finest fiesta attire (the folklorico dancers are PHENOMENAL)!
Princess Elena's Grand Arrival: If you've got a princess obsessed kiddo, then Princess Elena's Arrival is a must see.  This adorable musical show features Elena, her friends and some KILLER dance sequences.
Santa's Holiday Visit:  Another don't miss activity? The Santa's Holiday Visit at the Redwood Creek Challenge Trail (this one will be up until December 24th and then from December 25th to January 8th you'll see Santa Goofy instead of traditional Santa).  The entire area is decked out for the holidays and filled with fun activities from cookie decorating to meeting Santa himself.  We did this with Lydia last weekend and she LOVED IT!
Holiday Toy Drummers: One of my personal favorite holiday traditions? The toy drummers that perform multiple times a day at the Obelisk (right in front of the entrance to the Pixar Pier and heading towards the Symphony Swings).  Their showtimes aren't in the Disneyland app, but there is a SIGN at the entrance to the pier with that days showtimes.
Food:
Let's be honest…..the best part of Disneyland Christmas? THE FOOD.  We all know that no one does festive food like Disney, and this year? They've truly outdone themselves.
Want to see the FULL list of Disneyland Christmas Food? Disney Parks Blog has a FULL guide and it's super helpful!
California Adventure:
Want to know what I got the MOST messages about while I was at the park yesterday? The Festive Foods Marketplace (aka the Festival of Holidays Food Booths at California Adventure).  This fun festival features 12 separate booths all housed in between Carthay Circle and Paradise Gardens.  Each booth features a curated collection of specialty items for the Disney Foodie Fan.
My suggestion for the BEST way to enjoy the Festive Foods Marketplace? The Sip and Savor Pass! You can purchase it at multiple boots throughout the marketplace (it's $54 or $49 for annual passholders).  This pass allows you to select items from 8 booths and the cool thing? You can use it anytime between now and when the Festival of Holidays ends on January 8th (it doesn't have to all be on the same day).  The value is AMAZING!
I tried a TON of the food offerings, and we are planning to go back the weekend of December 7-9.  That's when we'll be using the Sip and Savor Pass to eat our way through California Adventure (I'll update this post as we try more items in the next few weeks….you can also following my Instagram Stories where I post taste tests of all items under our Disneyland Christmas highlight section).
My favorite food items from the Festival of Holidays:
Turkey & Stuffing Tamale with Cranberry Relish (Merry Mashups Booth): If you're looking for savory items, this tamale is AMAZING.  Not too sweet, just the right amount of filling.  I LOVED IT!
Hot Cocoa Marshmallow Macaron (Merry Mashups Booth): Now this is the item you guys messaged me about THE MOST.  I can't even tell you how many messages I got about testing out this macaron.  Rumor has it, it's the most popular item from the entire Festive Foods Marketplace.  It 100% lived up to the hype.  Seriously, might be the best dessert I've EVER had at Disneyland.  It's filled with peppermint and has a solid chocolate section in the center.
Jalapeno Latkes with Chipotle Crema (Spicy Celebrations Booth): If you love spicy food, the jalapeno latkes are for you.  They're delicious, and the Chipotle Crema is the perfect compliment to the spice.
Gingerbread Funnel Cake Fries (Award Weiners): Did you see the video I took of Chef Nubia preparing the amazing Gingerbread Funnel Cake Fries? Trust, they're as good as they look. They'll be available at Award Weiners starting November 23rd.
Disneyland:
Churros: This year Disneyland went above and beyond with the churro selection.  I got to see a few of them during our visit…..my top priority churro? The crushed pretzel and peppermint churro near Big Thunder Mountain!
Churros near Buzz Lightyear Astro Blasters: Sour Apple Churro with option to add side caramel sauce
Churros near Big Thunder Mountain Railroad: Churro with crushed pretzels and peppermint
Churros near Sleeping Beauty Castle: Gingerbread Churro
Churros near Haunted Mansion: Sugarplum Candy Churro
The Golden Horseshoe: Churro Sundae: Peppermint ice cream and a cajeta-filled churro garnished with chocolate brownie crumbles, chocolate sauce, and whipped cream
Hungry Bear Restaurant: Churro Bites with eggnog gelato and caramel sauce
Holiday Brownie: If you love chocolate then this is a MUST try.  This treat is available at Jolly Holiday, and is topped with white chocolate mousse, sprinkles, and a gingerbread tree.
Rancho de Zocalo Holiday Offerings: Rancho de Zocalo always has AMAZING holiday food…..and this year is no exception! On my must try list? The Chile Relleno!
Decor:
Disneyland:
Main Street: The 60 foot tall tree on Main Street in Disneyland is absolutely breath taking.  It's covered in stunning ornaments and lights.  All of Main Street is decked out in garlands and bows (did you see the video I posted on Facebook of one of the talented members of Disney's Decor team making one of the bows)? Now that takes SKILL!
Balconies in New Orleans Square: When I interviewed the women from the Disney decor team, their personal favorite location? The balconies in New Orleans square.  They inspired me to check out how each one is decorated differently!
Toon Town: Toon Town is always bright and fun…..but during Disneyland Christmas? It's OVER THE TOP adorable.  Be sure to check out the bright and festive decorations for the season.
Disney California Adventure:
Buena Vista Street: Buena Vista Street feels like a trip back in time.  The vintage looking storefronts are PERFECT for holiday decor.  And each one is prepared for Christmas.  From the garlands to the adorable window displays……it's a must see.
Carsland: Now, you guys know Carsland is my total favorite.  It was perfectly spooky for Disneyland Halloween 2018, and now? Luigi, Mater and the crew are ready for Christmas.  From the adorable orange garlands at the Cozy Cone Motel and the Orange Cone Tree to the Christmas Tire Garlands…….the Disney Decor team truly outdid themselves.  Don't miss this adorable location!
Are you visiting Disneyland Christmas this year? What are you the most excited to do???