Looking for a review of Pixar Soul? This movie review shares what ages the film is good for!
Many years ago, a girl sat in a church pew (ok it was actually a folding chair but you get the point).  And she saw a boy.  In fact, she saw him every week for months.  He played the violin in the church band, and the passion for his craft? The love for the music? It seeped from every part of his being.  He was so HAPPY playing.  They were young, and he was….different than anyone else she'd dated.  They locked eyes a few times but….that was the end of it.  Each week, he walked off with the band and she walked off with her friends.  Until one fateful Sunday.  She opened her phone, and there he was.  A suggested friend on Facebook.  That guy with the violin.  Now historically, she would NEVER have been so bold.  But, that clearly hadn't gotten her very far.  And if we're being honest…..historically relationships hadn't gone so well.  So she figured…..why not? What did she have to lose?
One friend request, and a whole lot of messages later…….the next Sunday, they talked for the first time.  He was a professional violinist, and she was a teacher.  He told her about the seven jobs he had.  She asked if he had time off (he probably laughed on the inside).
And nine months later, my now husband proposed in the same room where we met.  We were married six months after that.  That was when I saw the true passion that it takes to be a musician.  The spark, the drive, the commitment and the passion.
Our daughter was born in 2013.  And when she was three, my husband returned to school, and spent two years studying and working towards his Master's in Jazz Studies (pretty unique for a violinist).  Now? He runs a music program for middle and high school students and uses his twenty years of experience in the industry (recording, touring, gigging, composing, and teaching) to inspire the next generation of musicians.  And me? I've realized that music is a calling, a way of life, a spark.
Finding Your Spark: Soul Reminds Us How
Needless to say, I've been not so patiently waiting for Pixar's Soul.  Soul is the story of Joe Gardner, a middle school band teacher who loves Jazz music to the depths of his…..Soul.  In fact, when I heard about the film last year at D23…..I called Robbie immediately.
"THEY'RE MAKING A JAZZ MOVIE AT PIXAR!!!!!"
But having seen Pixar Soul twice now? This movie is about SO MUCH MORE THAN JAZZ.  First of all, I can't write about Soul without acknowledging that this is an amazing step in terms of representation and diversity from Pixar.  I've said it before and I'll say it again.  I believe it is EXTREMELY important that our children see representation of characters they love who look like them and representation of characters that look differently than they do.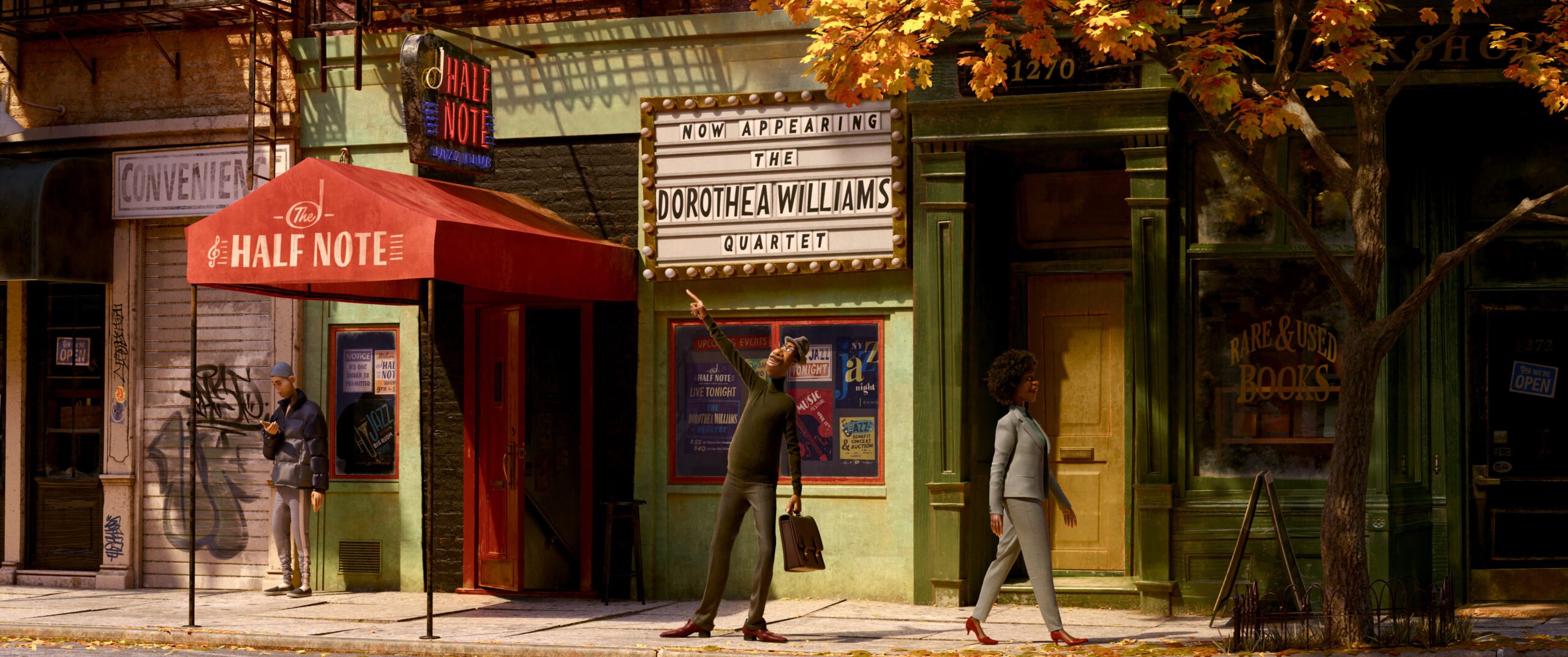 Soul also addresses the idea of how we find our spark, or our inspiration.  In fact, it made me think about my OWN spark.  The things in my life that make me feel like my…..Soul is on fire.
During the Soul Press Junket,  I had the honor of hearing from the powerhouse women of Soul.  They shared when they first felt that spark in their own lives.
"Yeah-when I was 11 years old. And yeah, when I was 11 years old, and I stood in a spotlight. And uh, couldn't see anything but light. And I held a script of everything I was supposed to say, but because I'd been- rehearsed so thoroughly, I knew it by heart. So, I just talked to the light all night long."-Phylicia Rashad 
When I was in college, I studied drama. At the University of Virginia. And I-like everybody, I think I mostly wanted to be an actor. But then the first time I took a playwriting class, and I wrote a one-act play, and I was not in the play. That was the first time I ever sat back and watched other people get laughs and stuff from something that I wrote. And it was such a unique thrill that I-it-something opened in my brain, of like, "Oh, I think this is-this is it for me."-Tina Fey
"One of the first moments is you know, as on the stage at Eckerd College in Saint Petersburg, Florida, in a little summer after school program.And we had the, you know, the pageant. And you had to-you had to exhibit a talent. So, I, um, had been doing a reading and just fell in love with the poetry of Langston Hughes. So, I used some of his Madam and the, you know, Madam and the Rent Man, Madam and the Operator, Madam and the Preacher. You know, as, you know, I did a couple of those poems. You know, like, "Reverend came by my house, l-today. He asked me…" You know, he, you know, he said, "I'm interested in your soul, has it been saved? Is your heart stone cold?" You know, so I used that as mine. And it went over very, very well. And can't say it came along with a prize. Being able to use the poet laureate's words to, you know, ex-express myself, to express drama. To have fun. Um, and to see the reaction of the-of the audience, to that. Um, yeah. It was uh, it was beginning. It was beginning of something." -Angela Bassett
FAQS About Pixar Soul
Is it Scary?  Doesn't this movie talk about death? Yes, Pixar Soul does address the idea of death.  But not in a scary way.  More like in a wooo wooo before and after life type of way.
What ages is it good for? Pixar Soul has a great balance of jokes and great visuals that younger kids will appreciate and adult undertones for the grownups.  I'd say, if your child is ready to sit through a movie……then this will fit.  It's a true family film.
What did Robbie think?  "I thought the music was great, and I loved the way he inspired his students with his abilities and love for the music."
Did Lydia like it? "I really liked Joe Gardner and how he turned into a cat.  It was really funny."
Overall? This reminded me of Pixar's Inside Out. It's bound to be a classic.  And no one does classics better than Pixar.  I highly recommend it, and bonus? Download the soundtrack.  It's STELLAR. I may need to add this to my Disney Plus Christmas Watchlist permanently!
SOUL will be streaming exclusively on Disney+ starting December 25th