Interested in the body suit with shorts trend? I was too. But realistically……I'm a 43 year old woman with a curvier, pear shaped body. I wasn't sure about this one. Until I tried it. Buckle up, cause….. a body suit with shorts might just be my new favorite athleisure wear item and I found some great options at all price points!
I have to be honest. This all started with the lululemon body suit with shorts. I saw content creator after content creator sharing how much they loved it online. But that price point? I just couldn't justify it if I wouldn't wear it. Was I REALLY going to run around in a head to toe spandex romper? Like what people wear in wrestling? You've thought it too right?
Enter Walmart. Yup, Walmart does it again. I noticed they had a cute new ribbed version of the body suit with shorts I'd been eyeing. And for under $40 (with free returns if I hated it)…..I decided it was worth a shot.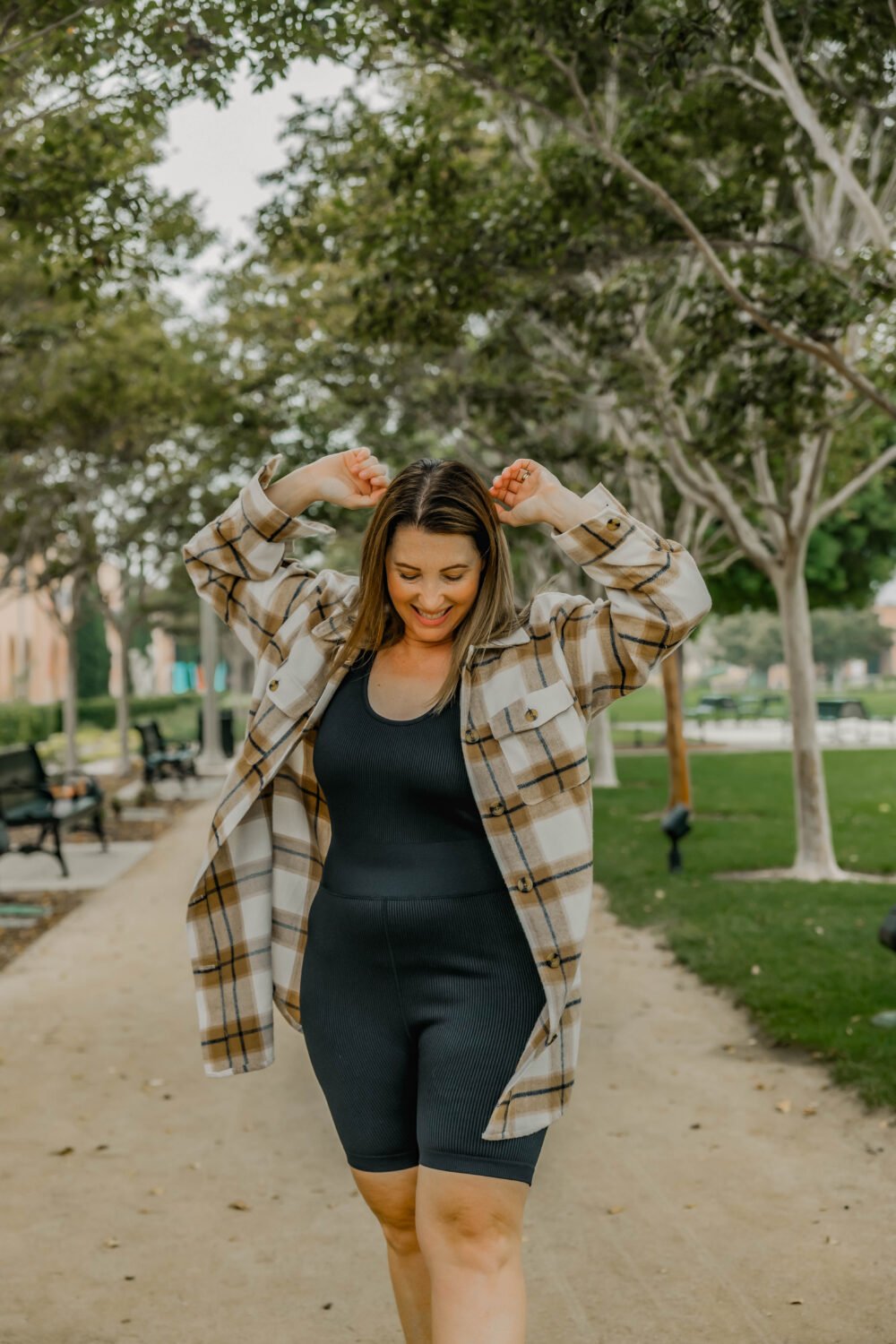 The bodysuit I got has a ribbed fabric and built in cups for support. With a size B cup, I had enough support to wear it without a bra (just for reference). I'm impressed. It's comfortable and it holds shape well for all day wear. I actually think it looks great on a curvier body. This particular body suit with shorts goes up to an XL, so not the greatest size range BUT I also tried and LOVE Old Navy's option which has a great size range from an XS to a 4X.
Shop my Favorite Body Suit with Shorts Options:

body suit with shorts : outfit ideas
Now I get it. This is all very cute and trendy. But how are you supposed to ACTUALLY wear this spandex romper in real life? I have definitely worn the body suit on it's own with sneakers for a hike or walk, but I probably wouldn't wear it like that for day to day styling.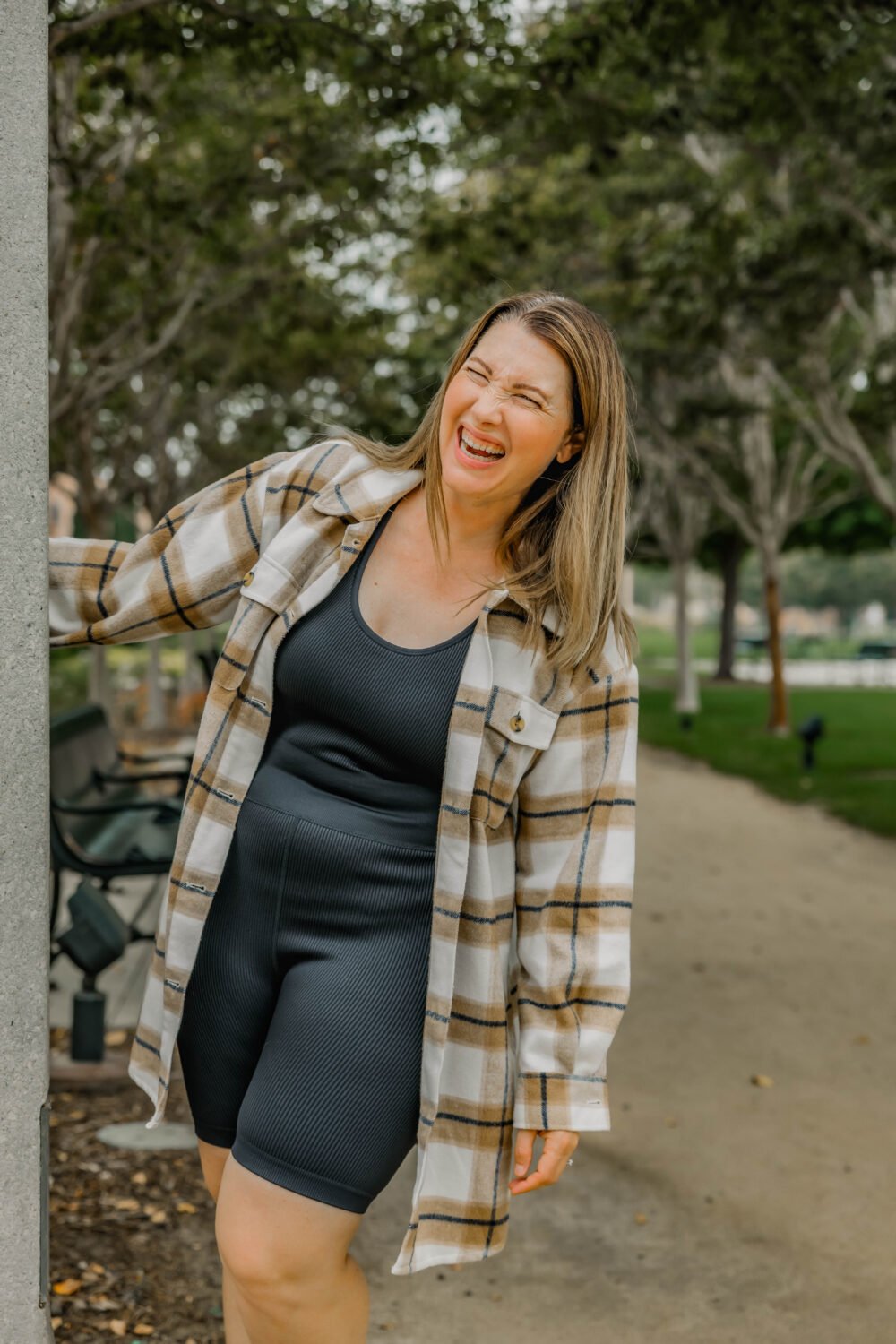 I look at my body suit with shorts as a base piece. What do I mean by that? I wear it as the initial layer for a full outfit.
A few of my favorite ways to style my body suit with shorts for cooler weather:
Flannel Vibes: The easiest and most casual outfit is probably also my favorite. I've been doing a flannel shacket and slip on sneakers with my body suit. It's comfy, it goes perfectly through the day and is great for school pick up and running errands.
Shop my Outfit:

White Button Down: If I want something a little dressier? I love a white button down blouse(open of course) with taller socks and my white Nike Air Force Ones. For a little extra? I add some gold chunky necklaces and a belt bag.
Shop my Outfit:

Sporty: I love how comfortable this can be and I've been loving wearing my body suit to baseball games lately. Want a sportier vibe? Try styling your suit with an open jersey (I'm obsessed with the city connect ones from Nike), some platform converse and a great baseball hat. Bonus points for a stadium approved belt bag.
Shop My Outfit:

Comfy and Cozy: Want a soft and cozy look? You can go all the way and style your body suit with a soft long cardigan and clogs. It's comfortable, and such a good vibe. Literally, it feels like pajamas!
Shop my Outfit:

So? Have I convinced you? Because…..I'm about to order this body suit with shorts in another color. I love it as a great option for casual days or even for easy travel outfits!