Thinking about visiting the Tenaya Stone Spa? This is my review after visiting the upscale spa at disney's grand californian hotel …..so that you can decide if it is worth the money for YOU!
I recently decided it was time to check one more activity off my Disneyland bucket list. We are Magic Key holders and massive fans of pretty much everything walt disney imagineering creates (especially the theme parks). But one thing I hadn't done? Even thought I'd stayed many times at Disneyland hotels…….I had never visited the Tenaya Stone Spa for a spa treatment.
The new tenaya stone spa opened inside disney's grand californian hotel in September of 2021. It was created using inspiration the indigenous cultures of California and their appreciation for the spirit of nature. It also echoes the classicCraftsman design of the rest of the hotel hotel. The Tenaya Stone Spa is a full service spa that offers spa and salon services for hotel guests as well as non-hotel guests. When the spa first opened, it was only available to disneyland resort hotel guests. At a later date it became available for non-hotel guests who want to book a spa day.
Tenaya Stone Spa: What Services Are Offered
I visited the spa before a day at the disney california adventure park, and it was SO HARD to choose which service I wanted to try. The Tenaya Stone Spa is a full-service spa and offers massages, body treatments, skincare options, salon treatments, foot treatments and wellness offerings. From the luxurious massages (the tenaya river stone massage sounded especially lovely) to the nourishing avocado body treatment everything sounded amazing. But honestly? I wanted a short and simple treatment before lunch and a day in the park. I decided to meet a friend and to try the Step in Time Foot Massage. On a non-park day? I'd love to try a customized tenaya signature massage or one of their herbal body treatments .
Whether you are interested in a couples massage , an aromatherapy massage , or a nutrient mask treatment…..there are a TON of options. You can see a complete list of services available HERE.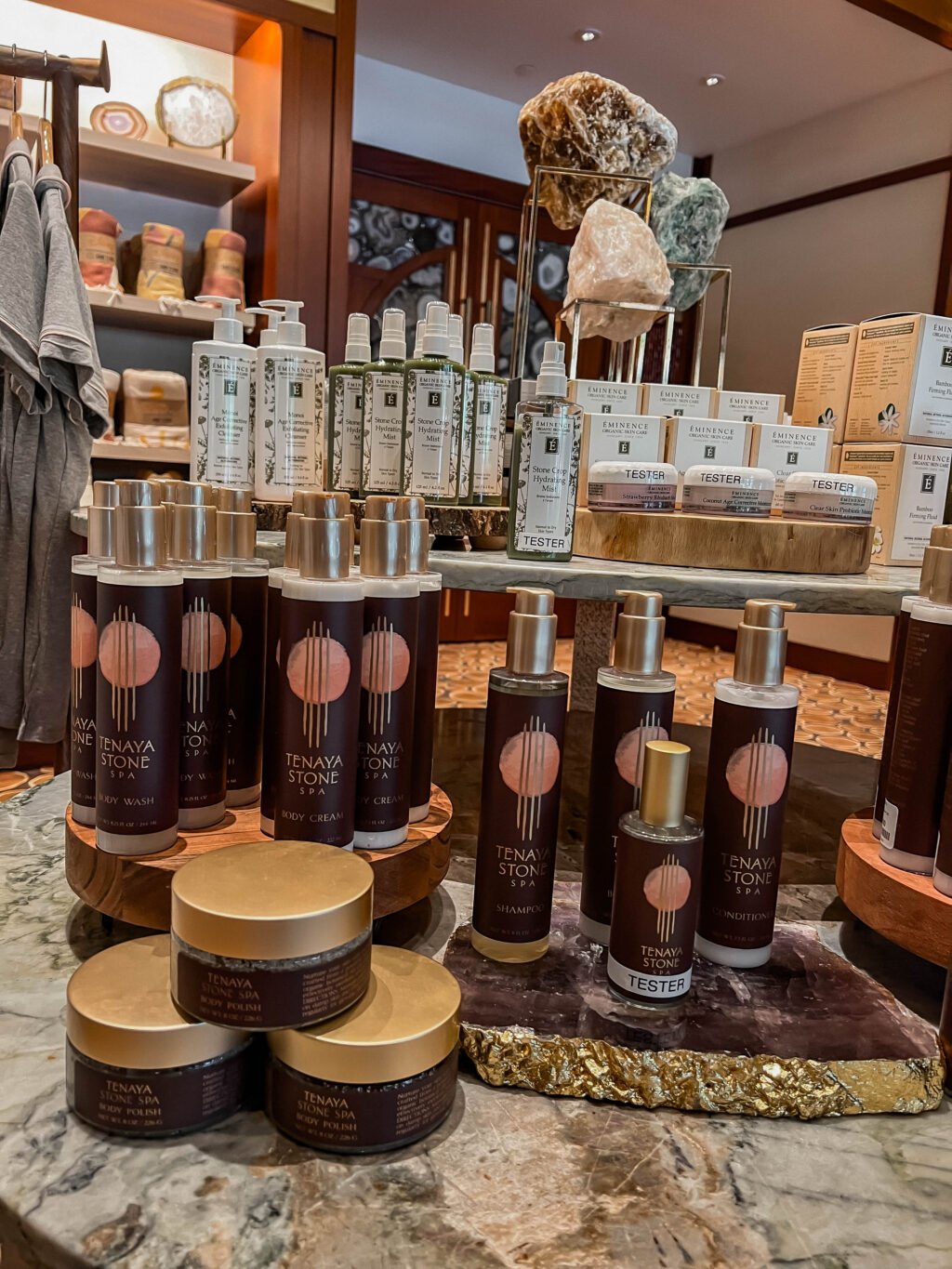 Tenaya Stone Spa: My Experience
I booked a VERY simple service at the Tenaya Stone Spa. I wanted to try something inexpensive, just to get a chance to get the spa guests experience. And now? I want to go back for a nice long day of relaxation.
I booked the Step in Time foot massage. It's 25 minutes long, and since I'm training for my Run Disney 10k….. I knew it would be heavenly. A few things to note: this type of service (salon and foot treatments) do NOT give you full access to the spa amenities. I wasn't aware of this, so next time I'll book something that gives me that option. We arrived 10 minutes before our appointment and were escorted to the area with pedicure chairs.
The service included a calming foot soak and a lower leg massage. We had delicious spa water, a little snack, and I'd highly recommend after a long day in the parks. It was LOVELY.
I did get to sneak a peek at the main spa and treatment rooms and oh my gosh they look amazing. When you book a longer service, you do get access to the amenities. This includes the relaxation lounge, steam room, and men's and women's changing rooms. There is also a retail boutique with some pretty great exclusive items. There were adorable soaps I've never seen elsewhere. I also spotted some Disney Barefoot Dreams blankets that would make a wonderful gift.
One can absolutely imagine enjoying a full spa day with girlfriends at the Tenaya Stone Spa, or even booking a longer service in between park days for out of towners. It would be a fun way to explore the Grand Californian if you are staying at the Disneyland Hotel or elsewhere on property. And bonus? Head to the gch craftsman bar and grill for a meal after.
We booked our service at 10:30 and when we left around 11:15, we walked right across the way for an early lunch. I did book the meal in advance, and the timing was PERFECT. They have a great outdoor dining patio and great food options. It's the ideal way to round out a morning at the spa.
So all in all, do I think the Tenaya Stone Spa is worth the money? From the stunning river stones and decor inspired by the crafts movement in California to the AMAZING cast members….it is a total gem. I love that it pays homage to the california heritage of it's surroundings and offers some truly unique services. The disney imagineers truly outdid themselves, and I can't WAIT to visit for a longer experience. HIGHLY recommend (and don't forget, they also offer fitness classes in the early mornings!!)