Looking for a The One and Only Ivan Movie Review that will help determine if your kids will love the movie? This is my mom perspective on the latest Disney Plus release.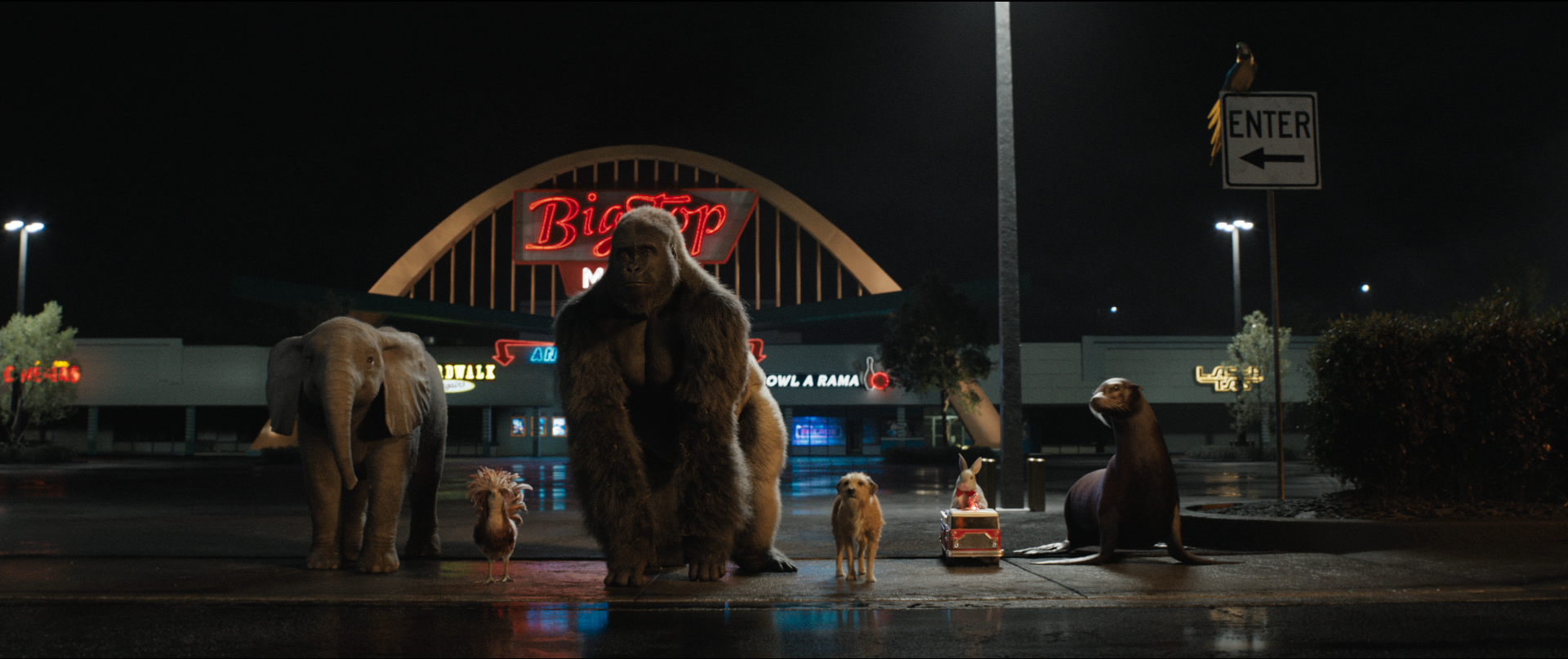 So here we are.  At home.  And looking for new movies.  Right? We have family movie night every week, and it's taken all my self control not to spill the beans and tell you guys….. WE GOT TO PREVIEW THE ONE AND ONLY IVAN MOVIE THAT IS COMING TO DISNEY PLUS!!!!  I'm excited because, so many of you are Disney Plus subscribers, so this will automatically pop up to stream on the 21st.  And let's be honest, we all need new family movie night options.
We saw the preview for this awhile back, and I was on the fence.  A movie about a silverback gorilla who paints? Who wants his freedom? Was it depressing? Because…..I'm not sure I need a downer right now.  But I knew the award winning book was a favorite, and the cast? I mean Angelina Jolie? Bryan Kranston? Danny Devito? Helen Mirren? CHAKA KHAN???? It just might be great.  And spoiler? It was.  This is the first movie we've watched in a long time that all three of us loved, but for totally different reasons.  And after I got to chat with the cast during the press junket? Now I love the movie even more!
The One and Only Ivan Movie Review: A Mom's Thoughts
Overall Feelings: Do not underestimate this movie, it's ADORABLE and it has something for everyone.  The overall story is great for kids and easy to follow (plus they'll love the fact that the animals talk).  There are great adult undertones and the jokes? Funny, like…..really funny.  The pace is perfect for younger kids.
The cast is great, and the story of Ivan and his friends (warning you'll fall in love with the baby elephant) is something everyone will enjoy.  It's sweet, family friendly, and has a lesson for all of us. As Ivan explores and pieces together his past, he learns about himself and his place in the world.  Trust me, we can all relate.
<Lydia's drawings from watching the movie>
What Ages Is It Appropriate For?: The One and Only Ivan Movie is rated PG (for mild thematic elements) and I'd say it's great for ages five and up.  There is nothing scary, an animal does pass away during the movie which may bring up questions for younger kids.  Other than that, it's very kid friendly.  The movie is the perfect length for family viewing.
My verdict? Definitely a must see.  This is perfect for a family movie night, and bonus if you read the book first!
THE ONE AND ONLY IVAN movie is streaming on Disney+ starting August 21st!