Heading to the Happiest Place on Earth for Pixarfest? Check out the Ultimate Guide to Disneyland Pixarfest for must sees, must buys, and must eats!
Thank you to Disneyland for hosting our visit.
Pixarfest has officially kicked off at the Disneyland Resort! If you follow me on INSTAGRAM, then you know Disneyland Pixarfest is here AND that I got to see it live and in person. From April 13th until September 3rd, 2018, Disneyland and Disney California Adventure will be celebrating all things Pixar. From Monster's Inc to Toy Story, get ready to Disneybound……because Pixarfest is perfect for fun family days…..it will bring out the kid in all of us!
I got the scoop on Pixarfest food, the special Pixarfest decorations, and the fun Pixarfest parades and celebrations that will be happening throughout the Disneyland Resort all Spring and Summer long.
The Ultimate Guide to Disneyland Pixarfest
WHAT TO SEE:
From parades to fireworks, Pixarfest is filled with amazing entertainment. I love that they're reworked some of our favorite experiences, and introduced amazing new features!
Together Forever—A Pixar Nighttime Spectacular: We watched the new multimedia fireworks show from the center of Main Street, and it was my absolute favorite thing about Pixarfest. It features all of our favorite Pixar characters……and uses projection mapping to involve WAY more locations in the park (including the castle, the front of "It's a Small World", and the buildings on Main Street. Be sure to stay until the end, the sequence from UP is my favorite (and guaranteed to make you tear up)!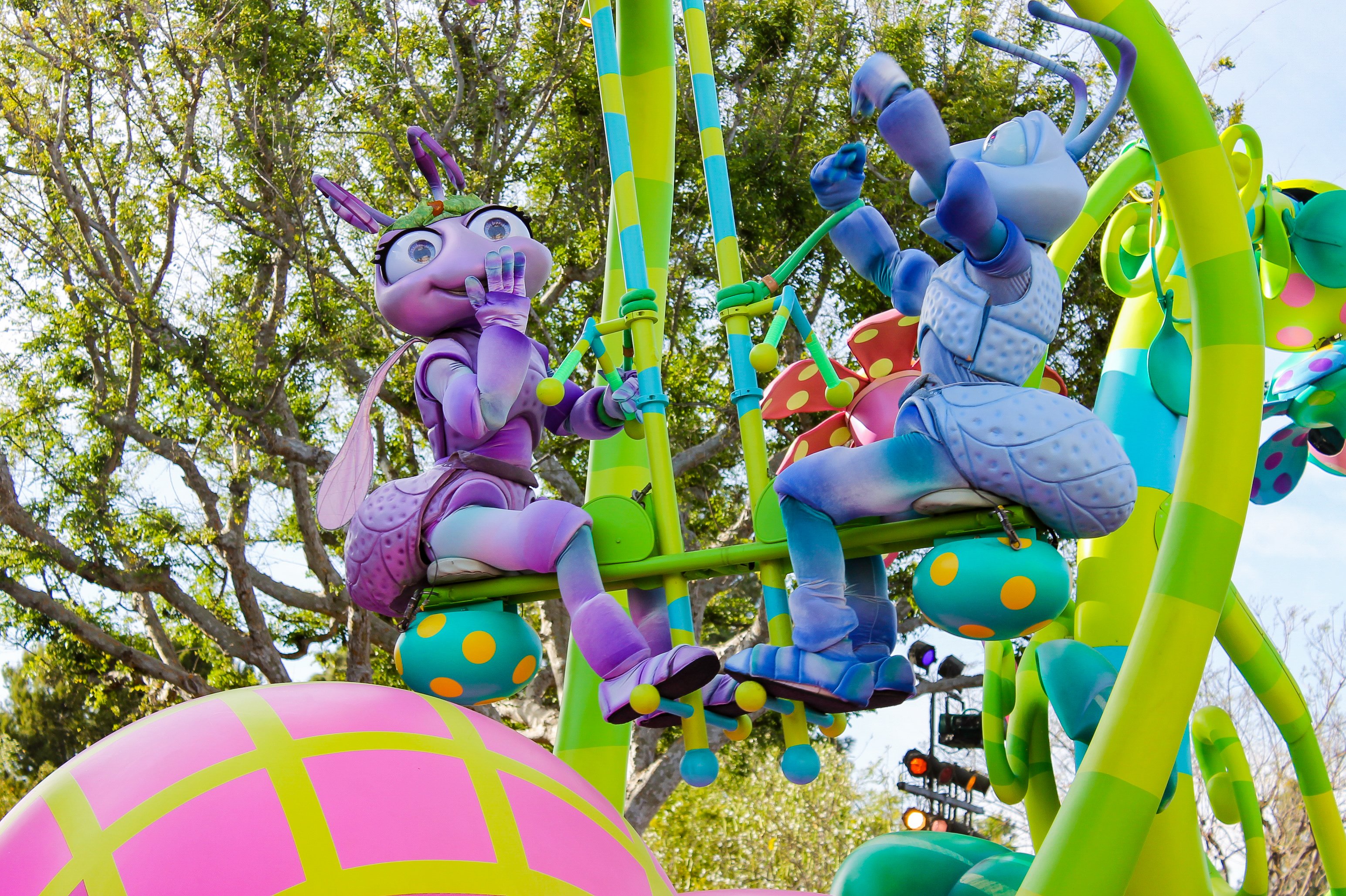 Paint the Night parade: I have to admit, this was my first time seeing this classic parade, and it was SO MUCH FUN! The Paint the Night parade is located in Disney California Adventure, and will be adding a new float in June inspired by "The Incredibles" and "Incredibles 2." Lydia saw video clips of the floats and is BEGGING to see the Monsters, Inc float…..I love that this parade is a great one for all ages!
Pixar Play Parade: This year, the Pixar Play Parade is making it's home inside of Disneyland Park. This daytime parade squirts water (perfect for those warm summer days that are on the horizon) and has three new floats…….the Pixar Lamp and Ball from the original Pixar short, Up, and Inside Out.
WHAT TO BUY:
I admit it, I'm a Disney merchandise addict. From mugs to tee shirts to some of the best ears and headwear I've seen in years, Pixarfest has something for everyone merchandise-wise!
Friendship bracelets: One of my favorite buys from Pixarfest…..are the Pixar themed charm bracelets. You can easily pick up one of the nine charm sets each time you visit, creating a fun tradition throughout the celebration!
Headwear: The ears, oh the ears. From the Up themed ears to the adorable Wall-e ears that form a heart, to the headbows available for each Pixar movie……there are so many fun choices (my favorite? The classic ear hats with Pixar characters on each ear)!
Space Alien Light Up Tumbler: I'm not going to lie, I bought three of these. The Alien light up tumbler is adorable, and sold like hotcakes on the first day of Pixarfest (I snagged mine at Knick's Knacks).
Sulley popcorn bucket and Mike Wazowski sipper: Disney popcorn buckets are ALWAYS a huge hit, and the Sulley popcorn bucket is no exception. It's adorable on it's own, or fits like a puzzle piece with the Mike Wazowski sipper.
Pixar-themed straws: A cute souvenir to bring home that won't take up all the space in your backpack? The Pixar Lamp & Ball Straw, and a Space Alien Straw. These straws are a GREAT price, and include a removable backpack clip (I grabbed a Space Alien straw for Lydia)!
WHAT TO EAT:
Let's be honest…….we all want to know about the Pixarfest food, RIGHT? I got to taste test a TON of Pixarfest's menu at the press preview I attended, and I even stayed at the Park an extra day to try a few more items!
Disneyland Favorites:
Fried Bologna Sandwich (Carnation Cafe on Main Street): This Up themed sandwich is AMAZING! It was the hit of our press dinner, people couldn't stop raving about it!
Strawberry Funnel Cake (Hungry Bear Restaurant in Critter Country): Obsessed with funnel cake? This strawberry version is topped with cherries and a chipotle syrup, it's AMAZING!
Cheeseburger Pizza (Alien Pizza Planet in Tomorrowland): Redd Rockett's Pizza Port in Tomorrowland got a Pixar-themed makeover and it's ADORABLE. The newly decorated Alien Pizza Planet has some AMAZING food including my favorite food item of all……the Cheeseburger Pizza (I ate it twice in two days)!
Coco Churro (Churro Cart in Frontierland): Churro obsessed? Me too. The Coco themed churro is AMAZING…..coated in chocolate powder, vanilla bean and salted cinnamon sugar and it's served with a spicy chocolate dipping sauce.
Disney California Adventure Favorites:
Chilled noodle salad (at Lucky Fortune Cookery at the Pacific Wharf): These color-changing noodles are delicious (and pretty cool looking). It's really fun to see how the special sauce activates the new color!
"Coco" tres leches parfait (Paradise Garden Grill): This parfait was a HUGE hit at the press event as well, it's DELICIOUS…..and just the right size for sharing!
Habanero Meatball Cone (Cozy Cone Motel in Carsland): Looking for something spicy? The habanero meatball cone is just the right balance of hearty and spicy (the meatballs are AMAZING). It's easy to eat on the go, and I love the option to eat the cone!
For more on Pixarfest Food, check out my friend Kimberly's full food round up!

For more Disneyland Tips and Tricks, check out:

Disneyland Rides for Preschoolers

Disneyland Outfits: What to Wear to the Park for Each Season

Disney Packing List: What to Bring to the Park

15 Pictures to Take at Disneyland
Are you headed to Disneyland Pixarfest this year? What are you most excited about?