On the hunt for the best Aerie Bathing Suits to suit your summer style this swimsuit season? These Aerie one piece bathing suits (and a couple two pieces) will totally flatter a pear shaped body and they're an amazing price!
Am I the only one who is totally obsessed with Aerie? Their messaging about real beauty, their decision as a company to not airbrush their models, their use of a variety of body types and skin tones in every ad campaign? Yup, I love it.  And bonus? They make affordable swim items that actually flatter women with curves (especially us pear shaped ladies).  Aerie one piece swimsuits are some of my favorites, and this year I even grabbed a two piece to try out.  I wanted to share my picks from their current swim collection…..plus a few bonus items that I'm so glad I snagged.
The Best Aerie Bathing Suits (plus a few more items you need to own)
A few tips for any bathing suits for a PEAR SHAPED BODY:
you want to draw the eyes towards your narrow upper body….a great neckline, a brighter or lighter color on top, and embellishments will do this perfectly
find pieces that fit well and flatter your curves, you want to accentuate that small waist and midsection instead of hiding your body
try different fabrics and patterns to see what feels best to you, I'm a fan of bold colors and stripes or polka dots …..but you may like something different with your skin tone
Shop all Aerie Bathing Suits to find YOUR favorite piece swimwear or bikini (they have new arrivals to their bathing suit collection all summer long and often restock best sellers, so be sure to keep checking back for options):
AERIE waisted Suit: You guys have seen this suit a TON….I bought it a couple months ago.  It's honestly PERFECT for a pear shape.  I love that it's darker on the bottom, and draws the eyes upward.  But the best part? The defined waist, and Aerie has it in a few versions this year! It has built in cups and great support.  This may be my favorite of all my Aerie one piece bathing suits.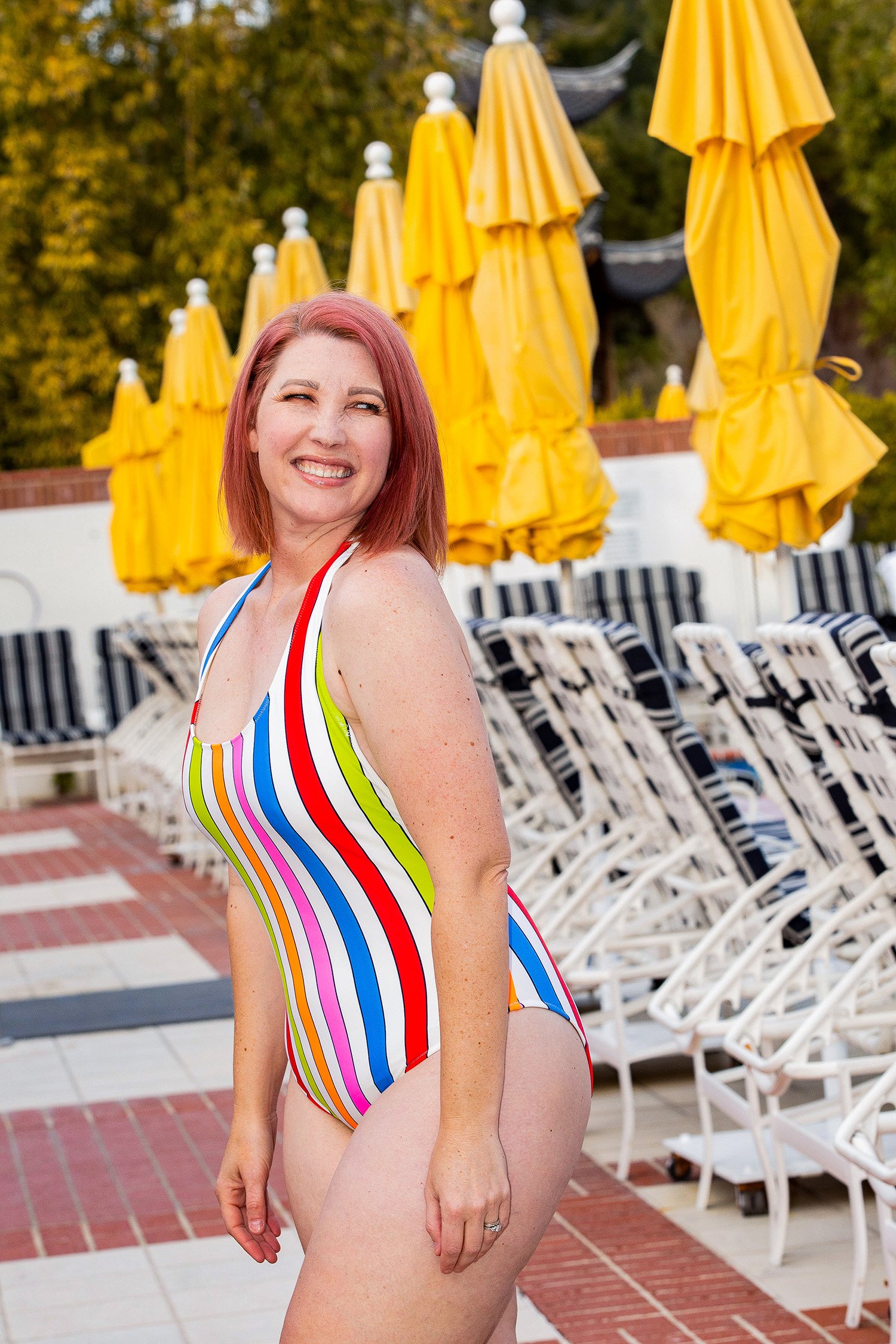 Aerie Striped Suit (size large): I own this suit in both a striped version and a solid blue one.  I love the stripes, the colors are super vibrant and fun.  It's definitely a little higher cut, and this is an unlined suit.  This year Aerie also has some ADORABLE wrap suits that I love, worth checking out!
Aerie Bikini Tops: Yes, I even tried a two piece this time!  And I have to say, I loved this cut, this style of bikini tops offers support and comfort and I love it.  The bandeau top offered extra support with the straps and removable pads (most aerie bikini top styles offer removable and adjustable straps also as an option), and the comfortable fit bottom was a way more flattering cut than I expected.  I even got a super cute matching kimono coverup  that I'll get a TON of use out of this summer.  So yes ladies, wear the two piece!  Pro tip, an aerie bikini bottom tends to be more high cut than a classic bikini bottom and a bit cheeky….but they also usually have a full coverage version if that's what you'd prefer in swimsuit bottoms(often with a fun crossover waistband) you can do fun mix and match bikinis!  This year, their bikinis also come in a super cute leopard print that I love.
Other Aerie Items:
While they aren't bathing suits, there are a couple of other Aerie items that I absolutely LOVE. 
AERIE MOVE COLOR BLOCK 7/8 LEGGING (size large): These Aerie 7/8 leggings are my go to work out pants.  They're comfortable, hold up REALLY well over time, and are perfectly high waisted.  As a pear shaped body type, one of my pet peeves is that my larger hips push down leggings as I run.  I HATE having to tug at my pants mid race as they slowly migrate south.  These? High waisted enough to stay in place.  They're a perfect choice for what to wear when jogging or working out!
AERIE CHILL HIGH WAISTED TIE DYE LEGGING (size large): These high waisted leggings are a softer fabric, and they're a perfect right fit for travel days or lounging around the house.  I also love them for yoga or pilates classes.  They come in a ton of fun colors, and I just ordered them in a second color.  I wore them with a matching sports bra to an event recently and got a TON of compliments.
AERIE HAPPY CAMPER SWEATSHIRT (size medium): BEST sweatshirt ever.  This sweatshirt is super soft, comfy and the perfect length.
AERIE Bike Shorts: These were a very pleasant surprise for me.  They fit SO well and are really comfy.  They come in a smooth nylon fabric or more traditional cotton and spandex options.
Have you tried any of these Aerie Bathing Suits? What are your favs? At this price point, you can easily try a few!  Bonus tip……they have an Aerie Swim Sale every few weeks throughout sunny day weather time (at least they did last summer)…..so keep your eyes on the website so that you can get your favorite bathing suit for even less.