Looking for super fun play ideas you can implement in your driveway and a little outdoor play time? These sidewalk chalk games take minimal prep and are a ton of fun!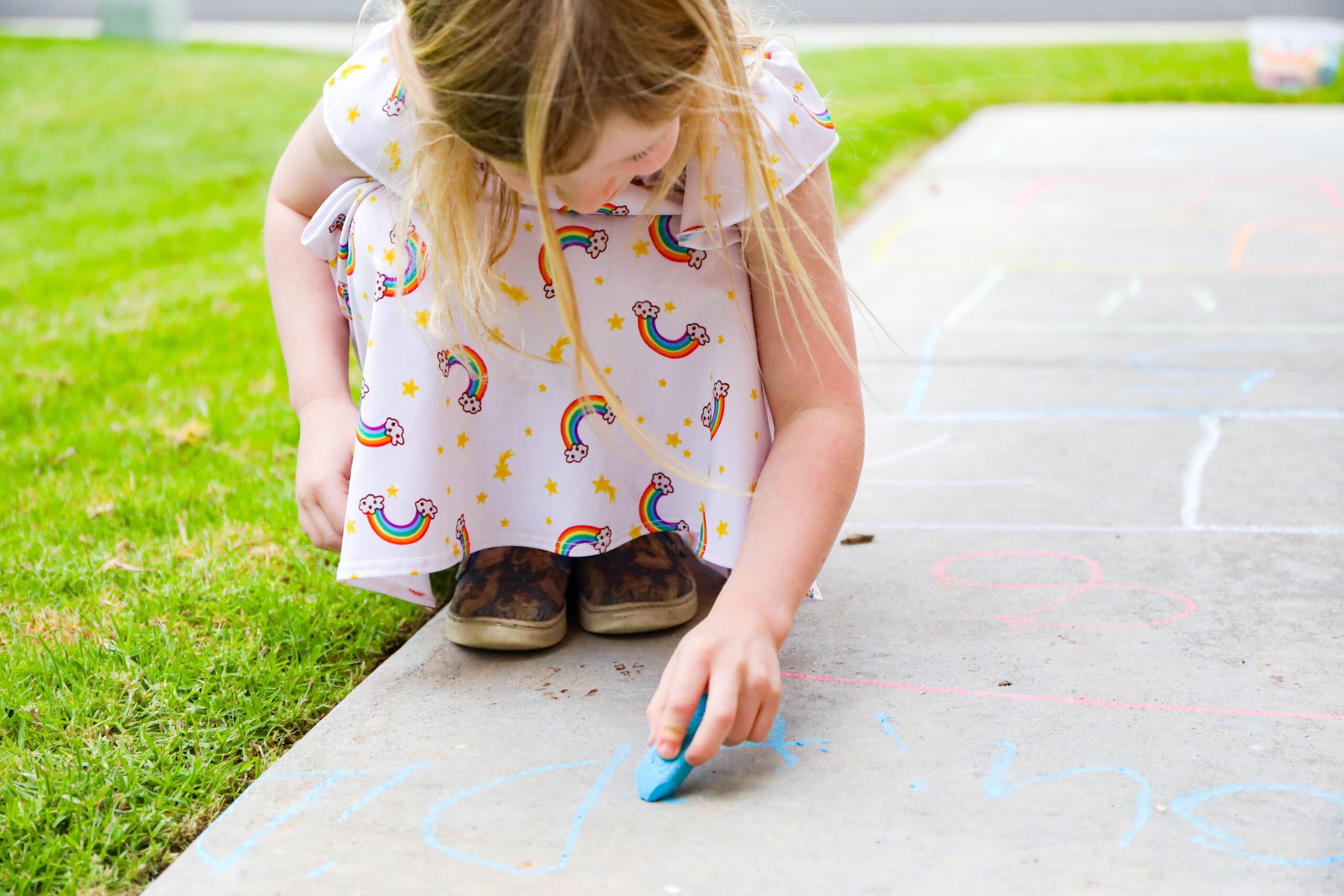 Here we are, approaching summer and we're all on the hunt for stuff to do.   Why is sidewalk chalk so awesome? Because sidewalk chalk games are inexpensive (you just need…..sidewalk chalk), easy to set up, and endless.   The best part? A lot of these activities are also learning opportunities.  They're a great way to practice sight words and academic skills for preschool and early elementary school or even to prep for kindergarten without…..boring stuff.
13 Sidewalk Chalk Games
Shop Sidewalk Chalk:

Sight Word Hop: this super easy fun game is seriously one of my favorite ways to practice sight words, and it always blows my mind how much fun kids have playing.  You'd think it would get old, but…..not at all.  The basics? Pick between five and eight sight words that your child is practicing.  Write them on the sidewalk with about one to two feet in between.  The goal? As you call out a word? Your child jumps to THAT sight word.  They'll practice identifying sight words, get energy out, and have a blast.
< click here for more sight word practice games >
Letter Tracing: if you've got younger kids who are working on letters or letter recognition, sounds and writing, a letter tracing game is an easy and fun way to get some practice in.  Write the alphabet on your driveway, and let them trace away to their hearts content.  Bonus if they go over each letter in each color.  If they're practicing sounds or phonics? Then you say a sound, and that's the letter they trace! You can do the same thing with sight words or spelling listing and sound patterns.
Hopscotch: Looking for a fun twist on traditional hopscotch (this classic game is always a blast)? It's a great way to practice addition or subtraction.  So normally you throw a pebble onto your hopscotch game and that's the number you skip, right?  Instead of that number being random…….have your child complete an addition or subtraction problem then place the pebble (or bean bag) on the answer.  THAT'S the number they skip. This is a great one for older kids!
Life Sized Number Line: Remember number lines? They're often really hard for young kids to grasp.  But guess what helps? A LIFE SIZED ONE.  Draw a number line from zero to ten or zero to twenty.  Hand them a sheet of addition or subtraction problems (I use this notebook with Lydia) and tell them to go to town.  This is a fun activity that SERIOUSLY helps with math skills and it's a perfect way to remind your kids that math can be fun!
Chalk Obstacle Course: From jumping jacks to running in place to skips, you can use sidewalk chalk to build a body only obstacle course.  Don't forget to complete it yourself as an adult, ha!  This is a great whole family activity.  Pro Tip: I usually let my daughter CREATE her own course and tell her we'll all complete it at the end of the day.  I literally hand her a box of sidewalk chalk and she's busy for hours.  What a win!
Mixed Up Numbers: Write numbers from one to ten (or one to twenty depending on age) on the ground in no particular order.  Scatter them so they're not in a line.  You can use this for number recognition for younger kids….you yell a number and they run to it or addition practice for older ones, they add two numbers together and jump onto the answer. This is a simple way to get some movement in, and can easily be run by older children calling out the numbers for younger children.  They'll have the best time being "in charge".
Body Tracing: You traced your body with chalk when you were little right? But the fun part? After you trace that outline…..give your kids an assignment.  Have them create a family of superheroes or princesses.  Trust, it will take HOURS…..one of my favorite sidewalk chalk games, and it never gets old.  For this one, be sure that you have lots of different colors of chalk….the more you have the longer they'll happily draw.  Bonus if you have glitter chalk!
Build a Map: Got a car obsessed kiddo? This is the perfect chalk art game.  You draw a roadway, complete with twists and turns.  Let your child add houses, buildings, trees, etc, and then drive their cars around it to their hearts content.  This is a great way for younger children to practice both gross motor skills and fine motor skills, and a wonderful way to encourage imaginative play as they create an environment around the "road".
Tic Tac Toe: Who doesn't love a giant game of tic tac toe? Super easy to make (you just need straight lines to create a tic tac toe board), and if you use blocks or shoes or ANYTHING, you can play over and over again.  Bonus? Play with two colors of water balloons and let the winner throw them at the end (this is a giant win on a hot summer day).
Life Sized Candyland: If you've got a Candyland loving kid, this is a fun one.  Build a giant game board, and then bring the ACTUAL Candyland cards outside to play OR build a giant pair of dice out of an old cardboard box.  Bonus if you have actual candy at the end for the first player to reach the finish!
Twister with Chalk: Who doesn't love Twister? But you don't even need a Twister board, you can build your own on the driveway.  Pick your colors at random, or build a dice out of a box…..(this one is good for grown up parties too, ha!)  This simple game is so much fun, and guaranteed to be a hit!
Shadow Drawing: Another one that will take some SERIOUS time.  Set up your favorite animal toys (dinosaurs are great for this) and have your kids trace their shadows then decorate.  The different shapes are always fascinating, and it's interesting to see how the shadows SHIFT throughout the day.  At the end, have them set the toys back up to see if they "fit into their shadows".
Thank You Notes: Potentially the most important of all our sidewalk chalk ideas? Write thank you notes to the essential workers who are supporting us, write love letters to you neighbors, write a happy birthday wish to a friend.  All over your sidewalk.  This is a great exercise in community building and a reminder to appreciate those around us!
Looking for more fun learning activities? Check out our sight word games  or our at home STEM activities!
What are YOUR favorite fun Sidewalk Chalk games? Leave your fun sidewalk chalk ideas in the comments!