Evelyn and Bobbie: The MOST Comfortable Bra I've Ever Worn……trust me, this will change your life.
Yes, I want to talk about boobs. I have to be honest, when Evelyn and Bobbie contacted me…..I balked a bit. I'm a teacher. Did I really want to talk about boobs on the internet? If we're being REALLY honest…..I've turned down projects with multiple other bra and underwear companies. It just didn't feel right. So when Evelyn and Bobbie sent me an email with a bit of their story…..it's saying a lot that I even agreed to try out their product.
Want to know what convinced me? Their story. Evelyn and Bobbie , a new bra start up based in Portland, Oregon, focuses on diversity and body positivity through their line of bras and knickers. The company was founded by Bree McKeen with one goal……..to marry new technology and the beauty of the natural form. Evelyn and Bobbie is a women-led company that aims to make our lives easier (and a lot more comfortable).
So I decided to give Evelyn and Bobbie a shot. From now until September 7th, they have a pop-up fit event here in Los Angeles. I figured, I'd stop by their Venice location and get fitted. Little did I know I was about to fall in LOVE.
Evelyn and Bobbie: The MOST Comfortable Bra I've Ever Worn
So here's the deal. The Venice Pop-Up Fit Shop? Might be my new favorite place. It's intimate, well lit, and their staff is amazing. They walked me through a fitting and it was a wonderful experience. And I walked out with the most comfortable bra I've ever worn. SO comfortable that after wearing it all day the next day, I went online and ordered two more. And then I threw away my other bras. Yes, seriously.
Evelyn and Bobbie bras are comfortable for two major reasons. They're wireless and they're custom fit. You know how you usually measure cup size and rib cage when being fitted for a bra? Well they measured a TON. And literally the first bra I tried? Is the best fitting bra I own. Trust me, life changing.
Another thing I loved learning about? Evelyn and Bobbie realized the obvious. Nude isn't a single color. Their True Complexion Palette™ was scientifically developed using skin tone scans from real women and new color matching technology…..and continues to expand. They also offer a much larger size range than most traditional bra companies and just finished a campaign to expand their sizing further.
So my suggestion? If you're dying to take your bra off at the end of the day…….you're probably wearing the wrong one. If you're in the Los Angeles area……you have until September 7th to stop by the Fit Event (all info HERE). If you're NOT, you can also take yourself through the fitting procedure with a measuring tape. Either way……I can promise that you'll be happy with the results.
Because let's be honest…..a comfortable bra will change your life.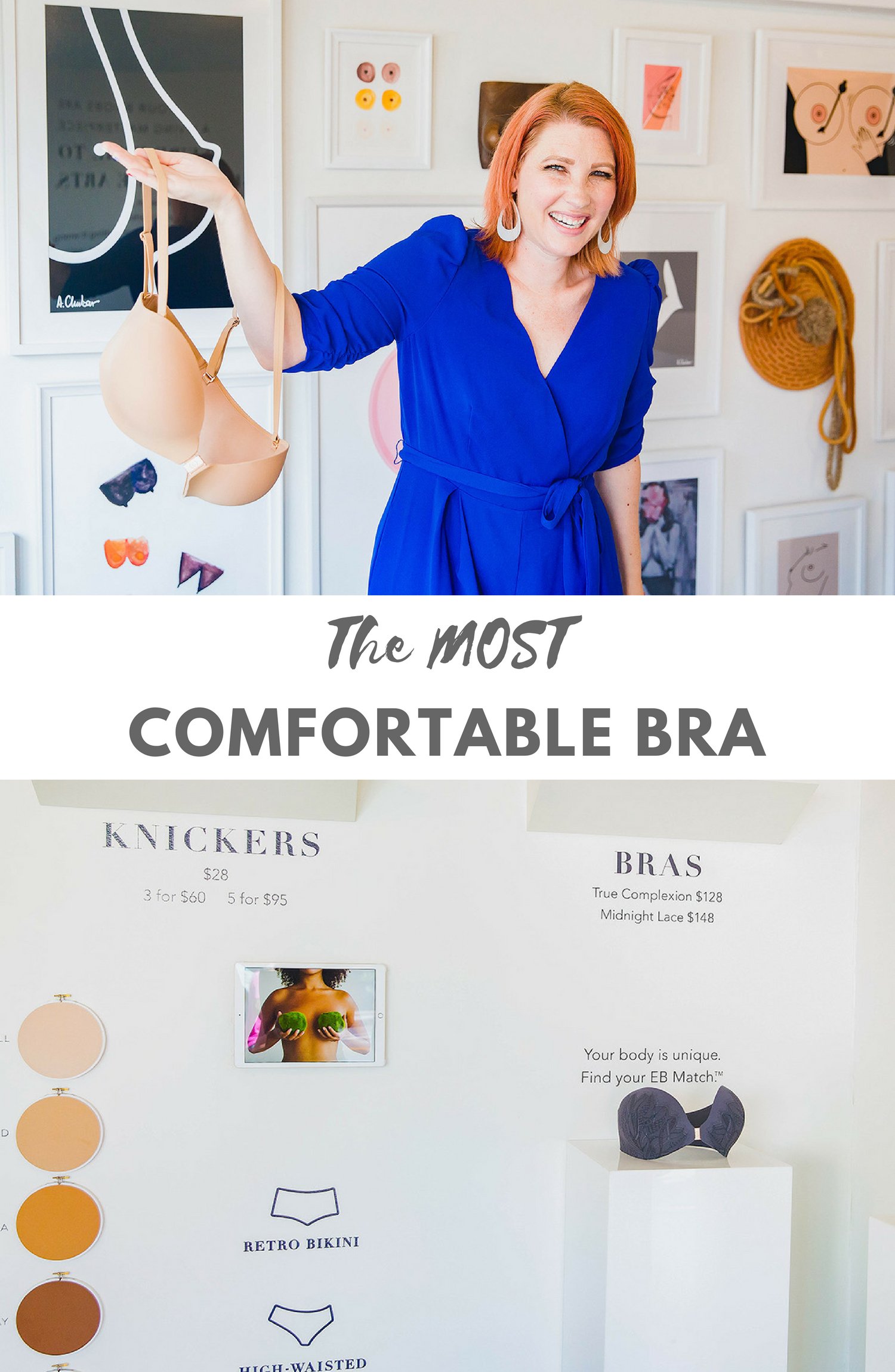 < don't forget to pin this for later! >