Stitch Fix Review September 2016: What I loved, what I'm keeping, and what you should request (plus a giveaway)!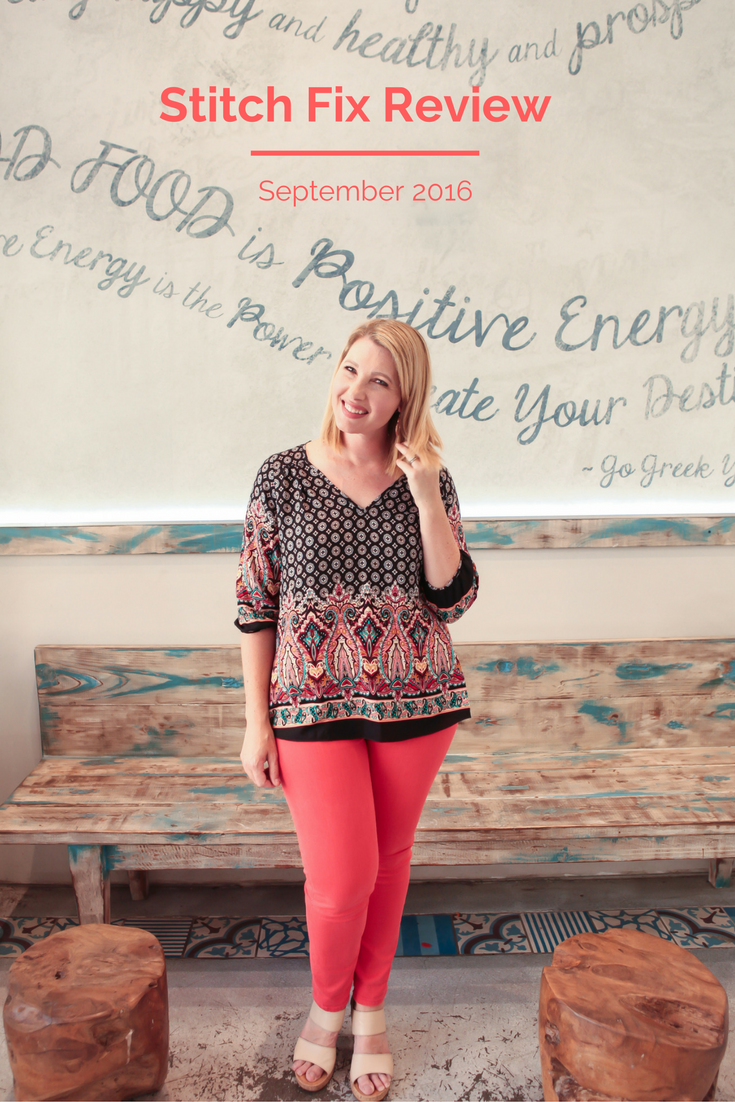 Well, school has begun and we're officially thinking about fall style. As I mentioned last month, I changed my style requests……and I'm SUPER excited to share this Stitch Fix review. What was I looking for? Casual workwear……..I actually gave a lot of specifics. I asked for dolman tops, light blouses that hit at the hip, colored pants, and dresses that are elementary school teacher appropriate.

Like last month, my review is a bit mixed. There were pieces that were total home runs, and pieces that I felt like I would NEVER wear.
/ dilys keyhole back top via stitch fix / liverpool nic cropped skinny jeans via stitch fix / theresa pave open shape drop earrings via stitch fix / sandals /
pictures by mily cooper photography
In case you aren't already a Stitch Fix nut…….a bit about the service: Stitch Fix is a personalized styling service that sends five pieces to your doorstep. The great thing? When you join, you fill out an extensive styling profile. You can request certain items or even ask for options for a specific event. You choose how often you get a fix (for me it's once a month). In the comfort of your own home, you try on all items. Then you keep what you love, and send back the rest…..and all with free shipping! There is a $20 styling fee, but you can use that $20 as a credit towards any of the items you keep. And YES, you can set a price range you feel comfortable with.
So what did I get in my September Stitch Fix delivery?
Stitch Fix Review September 2016
Dilys Keyhole Back Top (size medium, $54, kept): This top is one of my favorite Stitch Fix pieces EVER. It's comfortable, super flattering, and hits at the hip…..so long enough to be modest for work. The colors will transition to fall perfectly. I've already worn it a number of times!
Theresa Pave Open Shape Drop Earrings ( $28, kept): When I first opened my Stitch Fix box, I was a little apprehensive about receiving earrings. I have plenty. Did I REALLY need more? Of course, they coordinated perfectly with my Dilys Keyhole Back Top. Plus, they were a simple shape that I knew I'd get a ton of use out of…..and that price? I just didn't have the heart to send them back.
Liverpool Anita Printed Skinny Pant (size 10, $78, returned): I have to admit, a part of me still regrets sending these adorable pants BACK. They fit like a dream, and I could totally imagine wearing them to work. But, I have a similar pair…..and I was trying to stay within budget. I will say, if you are pear shaped it's often hard to find pants that don't leave a gap at the waist. This cut? PERFECTION. I asked my stylist to send the same pants in a different print or color if available next month. (see the item by clicking HERE)
Loveappella Loma Knit Dress (size medium, $68, returned): Now, this dress? Is where my stylist lost me. I just don't wear shorter dresses to work. Anything above the knee? Not realistic. Plus, the fabric was VERY thin. Would it be cute for a weekend, casual dress? Maybe, but that wasn't what I asked for. (see the item by clicking HERE)
Loveappella Textured Knit Top (size medium, $48, returned): So this shirt? I have to admit, I barely even tried it on. The texture and color? Not for me. It's extremely tight fitting, and hit at the top of my hips. It would be adorable on a different body type, but I didn't like it at all. (see the item by clicking HERE)
Want to see more of my favorite Stitch Fix pieces? Check out my August fix!
Do you use Stitch Fix? Interested in trying it out? You're in luck…..I'm giving away a $50 Stitch Fix Credit……to one new or returning user!
Welcome back to our regularly scheduled program……..we just finished celebrating Let It Shine's FOUR year anniversary with a month of giveaways….and now we're back to business. Each week we share a few of our favorite posts from the week before….
This week, we are loving:
/ the kind of glitter you need in your life / back to school style checklist /