Can we talk cute spring outfits? I'm sharing 10 pieces that are must owns for anyone with a pear shaped body!
Is anyone else a little overly excited to start thinking about spring outfits? As much as I love sweaters and cozy jackets……I'm ready for sunshine, dresses, and sandals.  When fall started, I share my Ultimate Guide to Fall Outfits for a Pear Shape Body……..I detailed ten staple pieces that I loved for the season and I wanted to do the same for Spring Outfits now.  These ten pieces are all items I own in my Spring Wardrobe, and highly recommend for Spring and summer wear in those warmer months.  They're flattering, and fit a pear shaped body like a dream (always important, right?).
One of the things I think about the most when transitioning to a new season? Cost per use and versatility.  A switch of weather and clothing need is a perfect time to assess what you HAVE and what you need.  For me? I try to focus on staple pieces that make for easy outfit formulas.  Items that I use over and over again that can easily mix and match into perfect combination options for the season.  There are always fun spring trends, and then I also use classic pieces that I've owned for years. For each of these staples, I'm including a couple of simple spring outfit ideas that can be created with them.  Hopefully this will help you prepare for fun and fashionable warmer days!
I'm including the sizes I wear in each for easy reference………..
Ultimate Guide to Spring Outfits For a Pear Shape Body
Overalls (size medium): Overalls are one of the hardest things to find for a pear shape or anyone over a size 4.  Trust, I tried on 17 pairs before I wrote my post about the Best Overalls for Women with Curves.  The ones I found? I LOVE.  These light denim ones from Madewell fit like a total dream….and I even found a STEAL version from Old Navy (they keep selling out, but if you can snag a pair they're a similar fit and under $50)!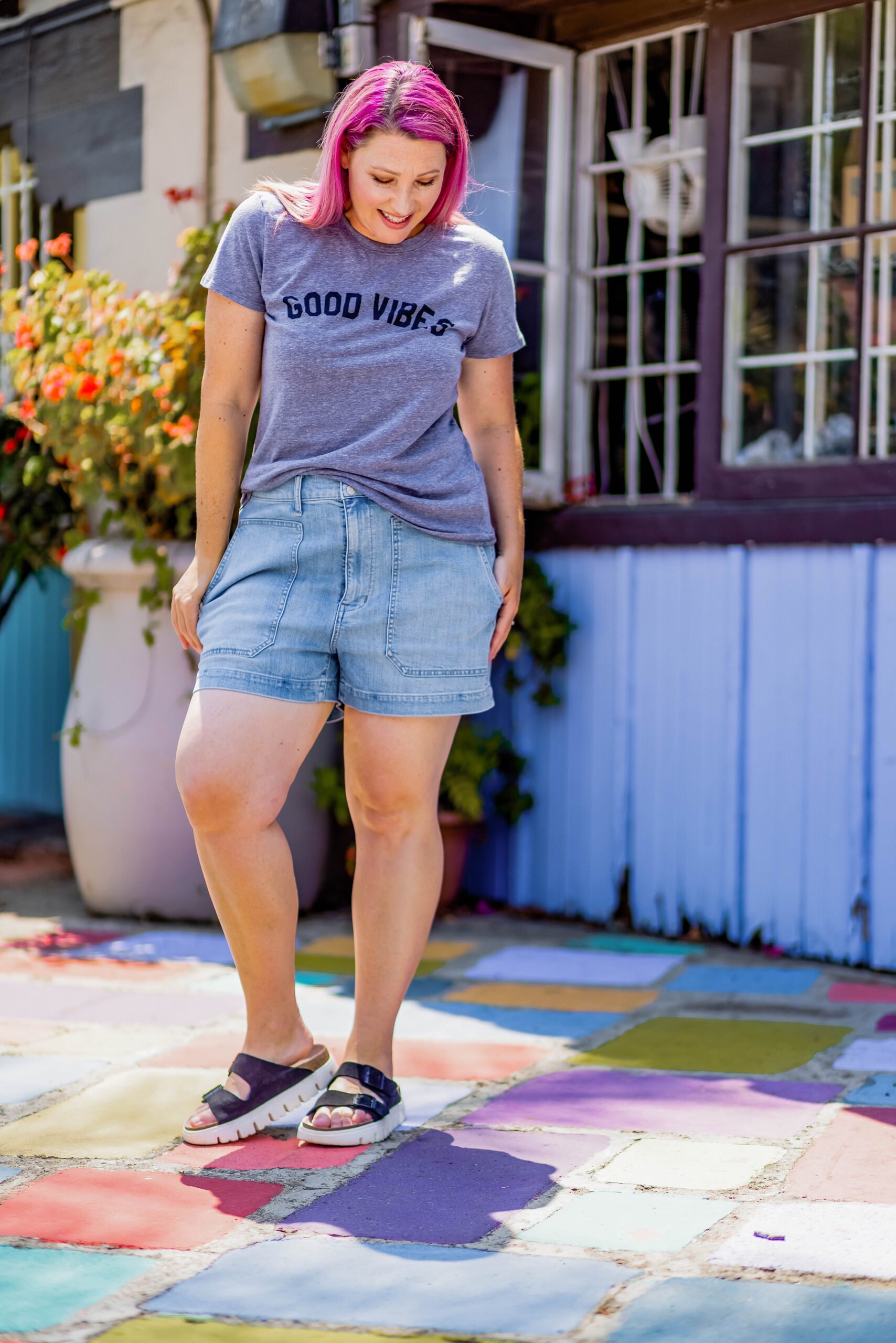 Flat Sandals:  These Birkenstock sandals will get an embarassingly large amount of use this summer.  I've owned my black patent leather pair for 3 years and wear them ALL spring and summer long.  They're comfortable and never go out of style.  This last summer? I added a couple pairs of platform Birkenstock sandals into the mix and they were great for a slightly more elevated vibe.
Shop these Sandals for Warmer Days:
Great Fitting Shorts (size 12): Great fitting shorts are practically impossible to find for a pear shaped body, but these? FIT LIKE A DREAM.  In fact, I wrote about them a ton in my ultimate guide to shorts for a pear shaped body last summer……and I'm just as obsessed with them now as I was then (and bonus, they come in a ton of cute new prints).
Shop the Shorts:
Pastel Dress (size M): A floral dress or great pastel sundress is a spring MUST own.  From Easter brunch to bridal and baby showers, you'll get a ton of use out of a great fitting dress.   And this year? Cottage core and fun sleeves and feminine elements are a huge trent.  I shared my favorite Nap dresses as a must have recently, and let me tell you….they're worth every penny!  They look great with a pair of mules and cardigan in cooler weather at the beginning of the season or slides and a straw hat when you get into warmer days (they even have some fun gingham prints for a fun picnic vibe).
Shop this Dress:
The BEST T Shirt Dress (size medium): Ok, I know.  I included this t-shirt dress in my fall outfits staples too.  I'm not even ashamed to admit I own it in FOUR colors.  It comes in a lovely faded grey, blue and olive and I bought all three for spring outfits.  It fits a pear shaped body like a dream and is under $60.  You can pair it with ankle boots and a denim jacket or tan leather jacket in the cooler months then switch to sandals for a casual look or heels for the end of the season.
Shop the Dress:
Simple Tee (size medium): A great basic tee is a staple for any spring outfits or spring vacations.  And this one? Is my favorite (I own it in a number of colors) and it's super high quality.  Worth every penny.  It also comes in a great size range (this is a total year round outfit piece that can be worn with mom jeans or white denim with ease).
Shop the Tee:
 Jeans : I know, I know.  I've talked about some of these jeans a LOT.  My two top pairs? These wider leg jeans from Kut from the Kloth and my Wit and Wisdom stretch jeans (perfect if you're on the hunt for skinny jeans). Yes, I've been talking about these for YEARS.  But, they're amazing and they're NOT too pricey.  They stretch well, and are great with sneakers and tees as the weather warms up….a perfect fitting pair of jeans is the foundation for an easy and fun new spring outfit.
Shop the Jeans:
Light Cardigan (size medium): I love a great cardigan for layering in Spring……and this red cardigan from Cabi Clothing? Fits like a dream and goes with EVERYTHING (plus who can resist that bell sleeve)…..great outfit guaranteed with a fun piece like this!
 Sneakers: Every single time I share pictures that include these wedge sneakers, you guys ask about them.  I own them in both grey and white, and wear them ALL the time (they're great for spring style ideas with simple tee shirt dresses or short)!
Leggings: Remember when I wrote the Ultimate Guide to Black Leggings for a Pear Shaped Body?  If you didn't snag a great fitting pair of black leggings then, do it now.  They're perfect for layering under tunics and dresses as the weather warms up but isn't QUITE hot enough for bare legs.
Shop the Pieces:
What are your favorite spring outfits pieces?