Looking for an easy Halloween craft or(non-candy based) classroom party snack? This easy Halloween craft using Tree Top Apple Sauce pouches is PERFECT!
Thank you to Tree Top for sponsoring this post, our easy Halloween Craft and our play date at the LA Zoo.
Ok, so this is my fifth Halloween as a mom…..but it's my fifteenth as a teacher.  Want to hear about my first year teaching on Halloween? I taught first grade at the time and (rookie mistake) decided to let the kids eat WHATEVER they wanted.  Can you imagine? Pounds of candy.  Millions of cupcakes.  Three kids got sick.  And I was horrified.
Pro Tip: want to impress your child's teacher? A non-candy contribution to this year's class Halloween party will be much appreciated.
Last weekend, Lydia and I hosted a small event with our friends at Tree Top to share our favorite non-candy Halloween party gift featuring Tree Top's amazing apple sauce pouches (trust, they're a must stock for busy families on the go).
An Easy Halloween Craft: Mummy Apple Sauce Pouches
Aren't these adorable? They're easy as pie to make, every kid who joined us at our Tree Top playdate made one (even the toddlers).  If you're hosting playdates between now and Halloween…..they're a perfect, simple craft.  All we needed besides our Tree Top pouches? White crepe paper, glue dots (the best for no clean up), and googly eyes.  Kids could easily make the mummies themselves and were so proud (plus they loved adding a million eyes to each pouch)!
Shop all Supplies:

See? You could even bring the supplies to a park, a girl scout meeting, or anywhere you want to keep your kids entertained!
We served a ton of delicious food at our event (my amazing friend at Ready, Set, Nosh created a kid friendly menu of Halloween snacks that complimented our Tree Top Pouches perfectly).  We served all flavors of Tree Top's apple sauce pouches: classic, cinnamon, strawberry, mango, tropical, and mixed berry (the tropical was a HUGE surprise hit with the kids in attendance)!  One of my favorite things about Tree Top's pouches, their new clear packaging allows you to see the food before eating!
We also had amazing gift bags at the event, aren't these backpacks adorable? The Bailey the Bat backpacks from Skip Hop were the perfect containers….our event was at the Los Angeles Zoo during their annual Boo at the Zoo festival.  Our bags were filled with cases of Tree Top apple sauce pouches, and the perfect compliment…….Halloween plate sets from Replay Recycled.  This awesome company creates plates from recycled milk jugs!
And the kids' favorite part of the day? We got to meet Tree Top's own mascot, Seymore Good!  He even taught the kids his very own dance…..the Seymore shuffle.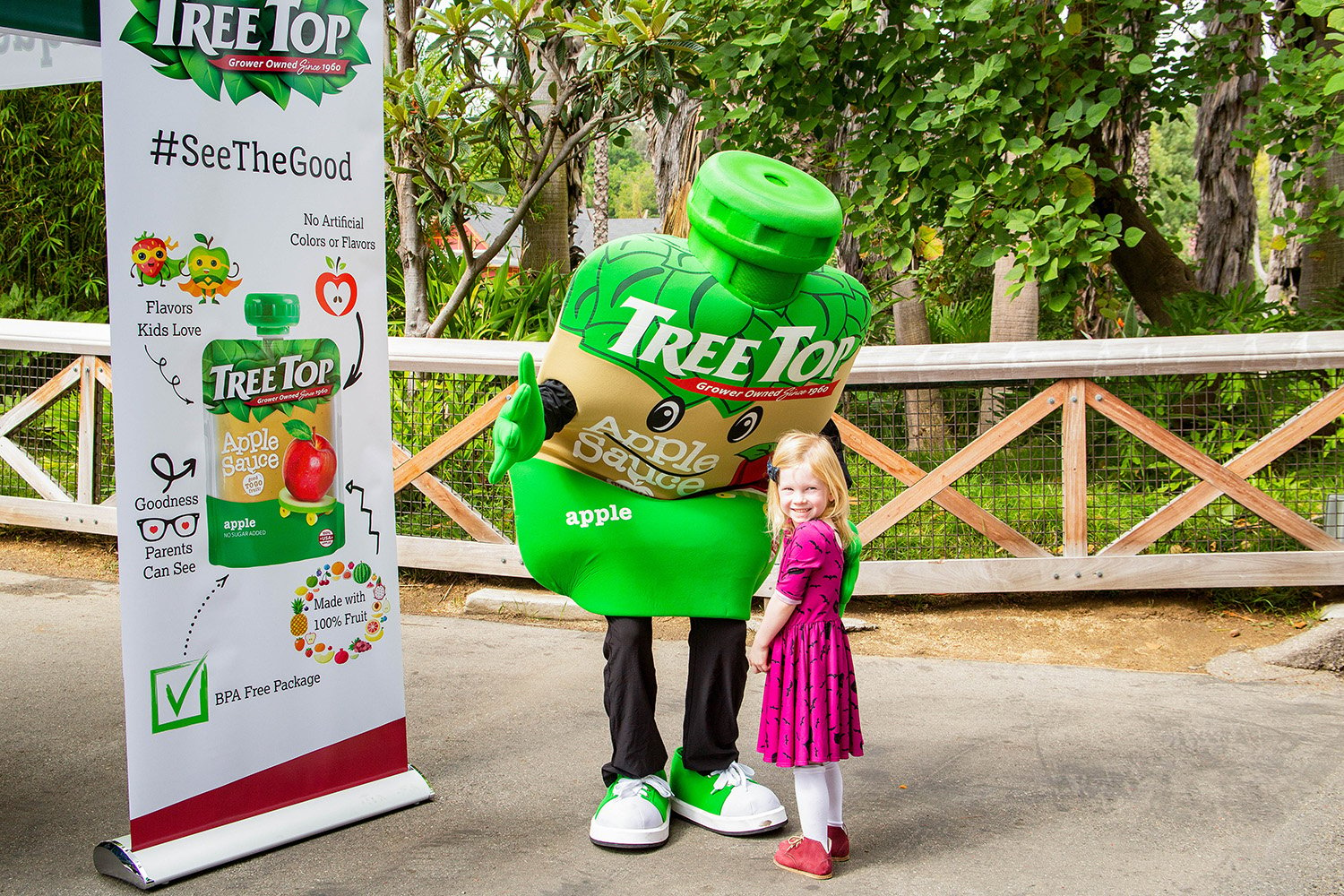 My favorite part of the day? Was how Tree Top helped us to help those in need.  While we crafted, snacked, and taste tested apple sauce flavors……Tree Top was giving back to theLos Angeles Regional Food Bank.  For each time members of our playdate used the hashtag #seethegood, Tree Top donated a case (up to 40 cases) of their delicious pouches to the Los Angeles Food Bank.  Isn't that cool?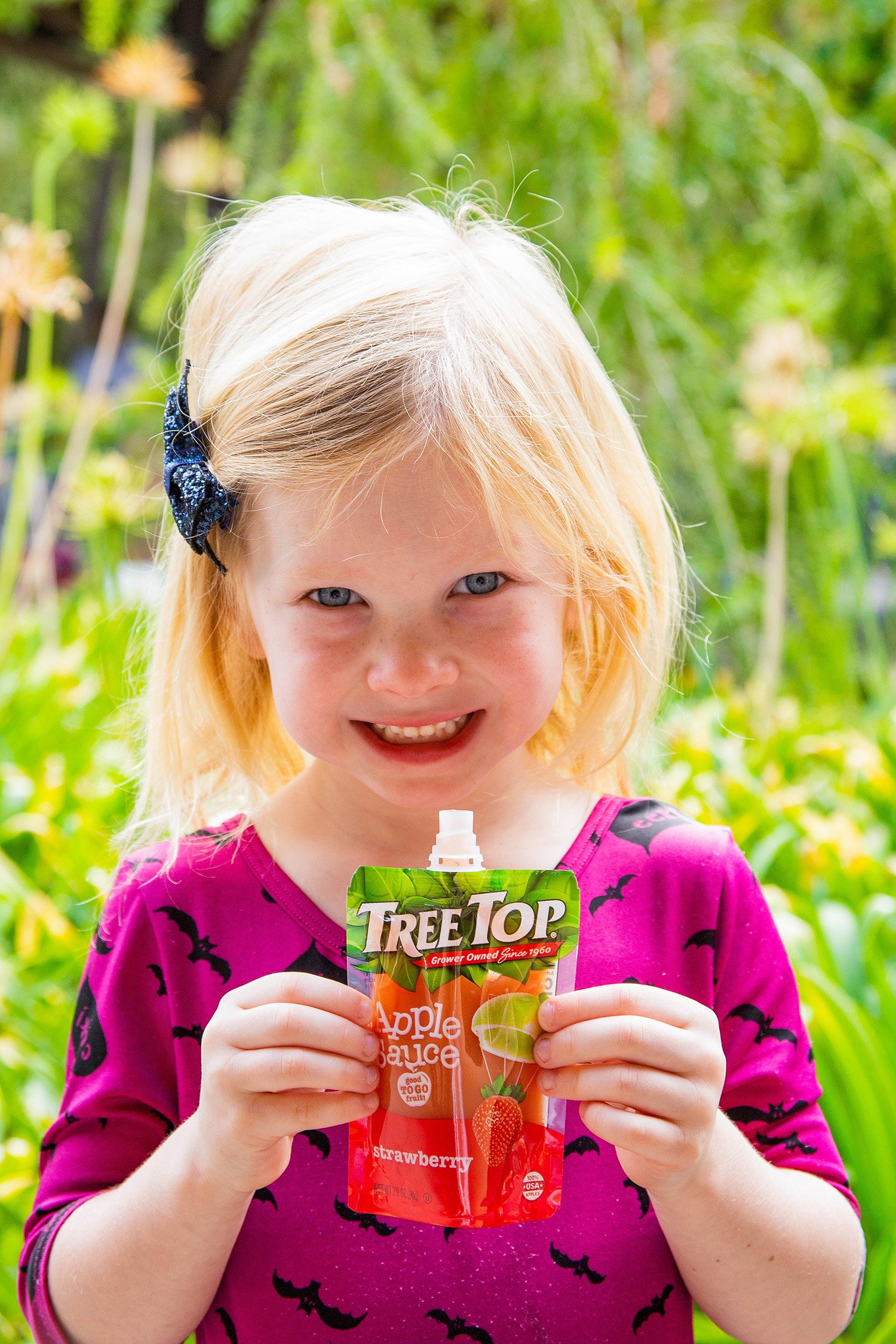 It was the most fun, and easiest play date I've hosted in a long time……and now I'm obsessed with thinking of more fun and easy craft projects I can do with our Tree Top pouches!  Suggestions?!?