Are you as excited about the American Girl 2018 Doll of the Year as we are? We're introducing Luciana Vega, and giving a doll away to ONE OF YOU!
Anyone else have a kid who is OBSESSED with American Girl Dolls? Lydia just loves hers, and honestly? When the information leaked about the American Girl 2018 Girl of the Year…..I fell a little more in love with the American Girl brand.
Each year American Girl Doll releases a special Girl of the Year. Last year was Gabriela, a dancer and performer who also had a verbal stutter. Each year, American Girl strives to empower girls by demonstrating that they can succeed despite challenges.
And this year? Luciana Vega…….a girl who dreams of traveling to Mars.
Luciana Vega: American Girl 2018 Girl of the Year
"We're proud to introduce fans to American Girl's 2018 Girl of the Year, Luciana Vega—a champion of STEM and a natural-born leader who puts her whole heart into making her dreams a reality. Luciana is a role model for today's girls—empowering them to defy stereotypes, and embrace risks that will teach them about failure and success as they chart their own course in life—whatever the goal. For us, it's all about building girls of strong character, and it's why we're continuing to encourage girls to lead change and embrace #charactercounts." -Katy Dickson, president of American Girl.
Who is Luciana Vega? She's an 11 year old who dreams of being the first astronaut to go to Mars….and if you've been around here with us awhile, you may remember that's one of Lydia's dreams too. She got a purple streak in her hair, and tells the story of winning a scholarship to Space Camp in Huntsville, Alabama. The chapter book that accompanies the Luciana Vega doll tells the story of Luciana's trip to camp and the character building experience she had there.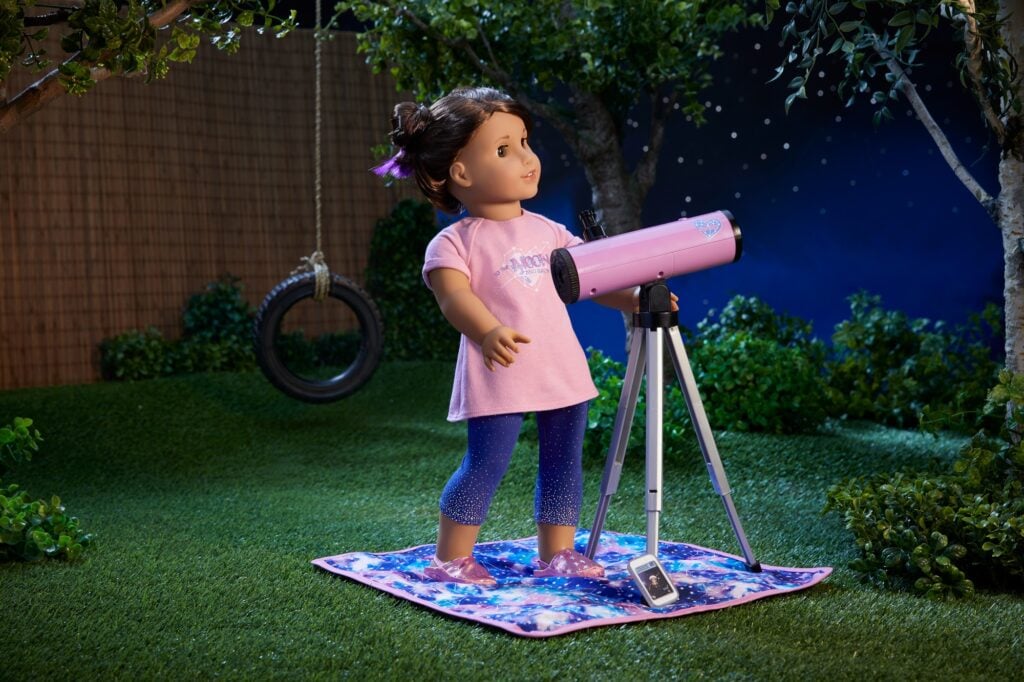 And the teacher in me? Is obsessed because American Girl is partnering with Scholastic, NASA, and Space Camp to create Blast Off to Discovery, an educational program to help third though fifth-grade students explore the wonder of space through Luciana-inspired content, including STEM-based lesson plans and classroom activities, videos, a game, and more. The program will be launching on www.scholastic.com starting January 31, 2018.
Are you in love yet? Isn't it amazing how Luciana will encourage girls to dream big?
I'm teaming up with American Girl to give one of YOU a Luciana Vega doll!