There are certain trends that sweep through blog world like wildfire……the bubble necklace, lace dresses…..I'm pretty sure I'm about to predict the next one.  At first, I didn't get Peter Pan collars at all.  I thought they looked juvenile.  Then I decided they were meant for people with edgy and ironic fashion senses…..when I'm as trendy, jcrew loving, elementary school teaching as they come.  But somehow, in the last month or so….I fell in LOVE with Peter Pan collars.  Combined with the right outfit….they add just the right detail!  Don't you think? 
Want to get in on the Peter Pan collar trend???
It's Tuesday which means it's time for Loving Lately!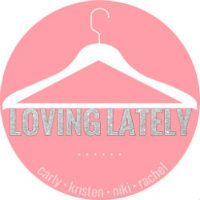 This is a weekly link up hosted by the fabulous
Kristen
,
Niki
,
Rachel
 and myself!  Join us and link up what you're loving lately! Whether it's fashion, color, crafts, interiors, beauty products, yummy and delicious, or really anything else, we want to know!
Please be sure to read the rules before linking up
Rules
1. Follow Your Hosts and Co-Hosts
2. Grab a Button
Or link back to one of your hosts, and help us promote Loving Lately!
3. Link Up!
Link up your post on what you're loving late
ly!
Please do not link up your entire blog or any posts that are not "Loving Lately"!
We are so happy to have you link up, and we do go through and read all of the posts, so if you do not give credit, we will have to remove your link.  And we don't want to have to do that!  So please share the love and include a link back!
4. Mingle
It's a linky party after all!
Visit some of the other posts in the linky and say hello!
5. Tweet!
Help us promote and grow this party! Send a tweet and let everyone know you linked up!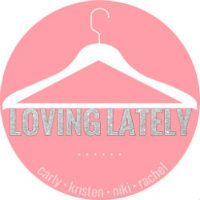 Let's get this party started!